Working on the Dance for Mother Earth Powwow, A History project this summer for the Michigan Library Scholars internship was an incredibly unique and enriching experience. The subject of Native American culture and powwows definitely caught my attention– especially the name of Ann Arbor's powwow: Dance for Mother Earth. My interests in sustainability, environmental justice, and ecological conservation are a few driving forces in my most recent academic endeavors, so the themes of giving back to Mother Earth and sharing culture in our community really resonated with me. I am currently a senior studying public health sciences and environment. Last summer I was able to work at Matthaei Botanical Gardens and a small organic farm just outside of Ann Arbor. While working in these connective outdoor spaces, I began to develop a deep and fond appreciation for native plants and sustainable agriculture. When studying native plants and ecosystems, I learned how important it is to recognize the Indigenous communities that have cared for these plants for thousands of years. In the gardens, I encountered plants with many different names. For example, I was able to see Arctostaphylos uva-ursi, which is a low trailing shrub with leathery dark green leaves and bright red fruits. The English common name for this plant is "Bearberry", but I also learned the Algonquin common name, Kinnikinnick, and some of its cultural significance. Experiences like this led me to become deeply fascinated with how Indigenous knowledge has sustained our landscapes and how we can promote these restorative perspectives.
The process of researching, writing, designing, and installing an exhibition in three months was initially very daunting. Luckily enough, I had an amazing partner, Andrea Medina, and some incredibly supportive and knowledgeable mentors to help us along the way. Andrea and I worked very closely with Ariel Ojibway and Bridget Kennedy for the duration of the internship. Ariel provided us with our own borrowed set of curated books about Native food, music, art, dance, history, plants, and more. Bridget helped us think about the design process and prepare our resources for installing the exhibition. 
At the start of our research, we decided to organize each of the showcases by themes: introduction to the powwow, history of the powwow, campus resources, dance, music, food, and visual art. I was especially interested in the history, food, and music at the powwows, so this is where I focused my reading. We relied on a number of resources for our research, including books recommended to us by Ariel, online sources from the U-M Library's Indigenous Research Guide, and archived materials from the Bentley Historical Library. Visiting Bentley was particularly exciting, since we were able to see and hold some documents and programs from the 1970s and onwards. Another really valuable experience during our research was interviewing Andrea Wilkerson, a program Manager for MESA and advisor for the Native American Student Association. We really enjoyed hearing Andrea W. talk about the value of powwows and her experiences attending and facilitating the Dance for Mother Earth Powwows. 
Once we collected enough information, it was time to organize our findings, connect ideas, and narrow down some of our topics. We encountered such a vast amount of information with a wide range of topics within Indegnous cultures, that it was a challenge to decide what to exclude from the exhibition. While writing the text for the showcases, we also designed a bookmark and poster as a way to visually introduce the exhibition in the lobby and encourage readership of some of our featured books on Indigenous cultures and perspectives.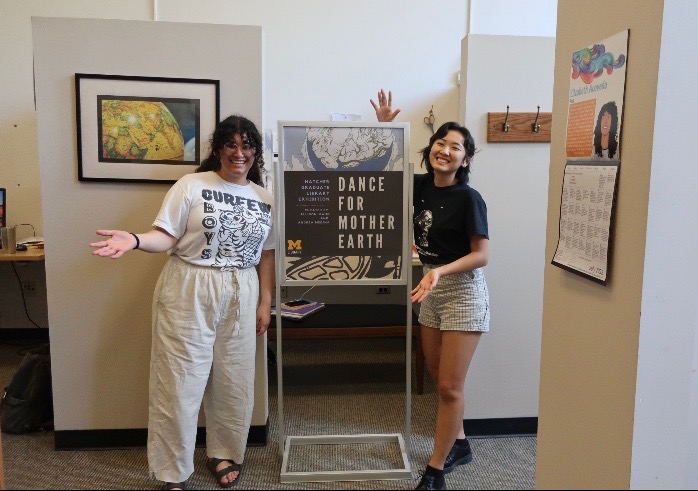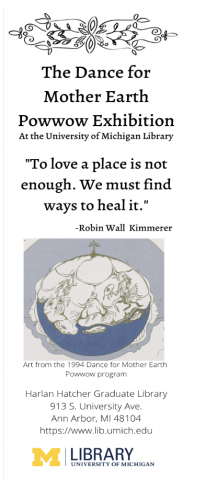 Before this internship, I was not very familiar with available library resources or the different types of career focuses that exist within libraries and museums. This internship was a great introduction to library careers and curation efforts. One of our mentors, Marna Clowney-Robinson, taught us how to utilize the library research guides for the project, which will definitely be helpful for future research endeavors. 
Improving my skills in interviewing was a major goal of mine before the start of the internship, and I am so grateful for what I have learned about interviewing and communication during this project. Attending the interview workshop with Edras Rodriguez-Torres helped us guide our approach to planning interviews, speaking with Andrea W., and meeting other community members during the Top of the Park Indigenous food event in Ann Arbor. 
Overall, this internship has inspired me to learn more about the richness of Native American culture and what I, as a non-Native person in the U.S., can do in order to support Indigenous communities in the efforts towards decolonization. Looking forward, I know that I will try my best to better address topics in DEI, while also considering multiple ways of knowing within my work in public health and environment. In my experiences in public health academia, I feel that Native communities are either "represented"/spoken for by non-Native academic authorities, or are entirely left out of the conversation. I hope to highlight this issue in academic spaces and learn more from Native leaders who are spearheading movements in food sovereignty, environmental justice, water safety, and more.
This exhibition has the potential to challenge harmful narratives and stereotypes regarding Native people in the U.S., while making it clear that Native American culture is present, rich, and vibrant– on campus and across North America. As first year students come into Hatcher for the first time, I hope they are able to see our work in the showcases and become interested in learning more about the land that the University resides on and the Native communities that live within Michigan.