A University of Michigan-Ewha University Connection
Last month Asia Library was pleased to receive a visitor from Korea: Dr. Ok Kyoung Baek, director of Archives at Ewha University. Dr. Baek is researching the life of one of the early shapers of Ewha's curriculum, Mary M. Cutler (1865-1948), who graduated from the University of Michigan Medical School in 1888 and then went to Seoul as a missionary. Cutler was originally from New York; later, her father moved his wife and ten children to the Midwest, where they founded the town of Cutlerville, near Grand Rapids. 
Despite her long years in Seoul, Dr. Cutler never forgot U-M, and fascinating artifacts evidence this. Prominent among these is a copy of the first Korean translation of the New Testament, held by the Special Collections Research Center. She also donated many periodicals, duly acknowledged in the library's accession logs and annual reports. For example: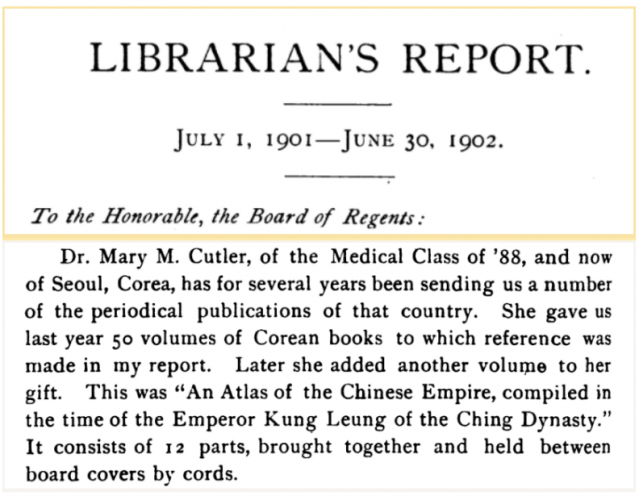 Yunah Sung, Asia Library's Korean Studies Librarian, helped Dr. Baek access the journal Woman's Missionary Friend, which contains numerous articles mentioning Dr. Cutler. We look forward to the fruits of Dr. Baek's research as well as to a future article on Dr. Cutler that is to be a co-production of the Nam Center for Korean Studies and the Medical School. 
Tags: