Posts tagged with Mini Grant in Blog Student Stories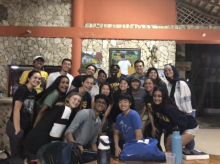 •
The Pre-Medical Club's (PMC) Alternative Spring Break (ASB) is a health-oriented service and educational trip for students at the University of Michigan. Since its beginning in the early 2000s, PMC has worked with the Community Service Alliance (CSA) in the Dominican Republic to organize and plan the spring breaks each year. CSA is a multi-faceted organization which strives to empower communities through health initiatives, educational and youth programs, and a focus on supporting female community members. We have continued to partner with CSA throughout the years because of the positive effects we observe in the communities and because of the level of involvement they permit students to have.

Although CSA has many projects in multiple areas throughout the Dominican Republic, our group has chosen to orient our spring breaks around their health initiatives and educational programs. Additionally, the past four years we have been in the same province: Hato Mayor. Each year, the details of the project change, however the objectives remain the same. Following the goals of CSA, we hope to empower and build up communities in terms of health to a point where they can continue health practices safely and independently after we and CSA leave.

Our spring break this year focused on two main projects: water filter installation and bathroom construction. Before embarking on our journey, CSA provided us with the schedule and project goals. We aimed to install eight water filters and construct two bathrooms in two separate communities during our five days of work. Along with the manual work, we also allotted two afternoons of the trip to speak with school children about hand-washing and general hygiene tips. On the schedule were other events where we could learn more about the Dominican Republic and its health system and culture. These events included a tour of a cacao farm, dance lessons from a local dance group, and a visit to a local health clinic for a presentation and a Q&A session.