With the new semester comes a new slate of special collections meet and greets! These pop-up exhibits bring rare materials out of the library and into Weiser Hall, where we'll be sharing selections from the Joseph A. Labadie Collection.  Visitors making their way through Weiser's busy halls will have an opportunity to take a look at books, pamphlets, ephemera, and even LPs while chatting with staff to learn more about our collections.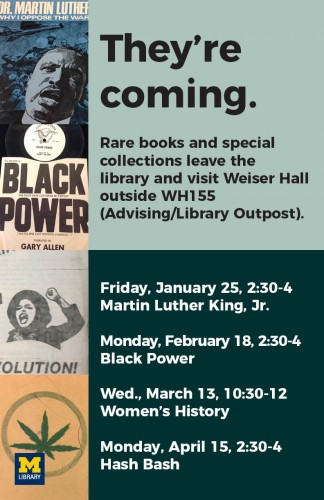 We'll hold the first meet and greet on January 25 from 2:30-4, where we'll be honoring Martin Luther King, Jr. On February 18 from 2:30-4, we'll display materials related to the Black Power movement. On March 13 from 10:30-12, we'll feature work related to women's history. Finally, we'll finish the semester off with a selection of materials related to marijuana and Hash Bash on April 15 from 2:30-4. Find us on the first floor of Weiser Hall, near WH155 (Advising/Library Outpost). 
For more information about special collections meet and greets, check out our blog post from last year about our first year of pop-up exhibits in Weiser Hall.
Tags: