Join us online next Tuesday (8 February) at 4 pm EST for the next event of our Winter 2022 After Hours  series -- "In Contempt: Defending Free Speech, Defeating HUAC" 
We will celebrate the launch of Ed Yellin and Jean Fagan Yellin's book, In Contempt: Defending Free Speech, Defeating HUAC, with a virtual panel discussion moderated by Julie Herrada, curator of the Joseph A. Labadie Collection. The panel will include Howard Brick, U-M Louis Evans Professor of History; Erin Ramamurthy, assistant United States attorney; and Benjamin Mitchell-Yellin, associate professor of philosophy at Sam Houston State University and the authors' grandson.
The Yellin family, which included three young children, endured a decade of hardship in the 1950s and 60s when they faced the House Un-American Activities Committee (HUAC). The repressive weight of the U.S. government, caught up in the throes of McCarthyism, crashed down upon their careers, their daily household budget, and their relationships to colleagues, neighbors, and their country.
The authors drew heavily upon materials that are now part of the Labadie Collection for the book. An online finding aid for this material -- the Ed and Jean Yellin HUAC Papers (1948-2019) -- has been prepared by Lauren Paljusaj and can be accessed here.
Register to join us via Zoom. We hope to see you there!
Presented together with Michigan Publishing.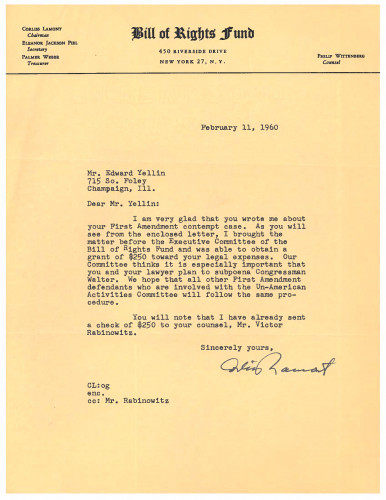 Document from the Ed and Jean Yellin HUAC Papers (1948-2019)
Tags: