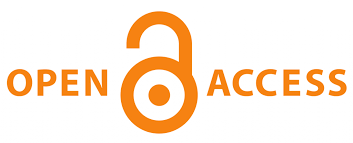 Official logo for Open Access ("open access" is written in orange letters with an open lock image in between the two words)
When I first applied to the Michigan Library Scholars (MLS) Program, I didn't quite know what to expect. I always thought libraries were primarily a place to check out books and receive help with research. As an incoming public policy major, I was looking for a summer internship where I could learn how to analyze policies while making a positive impact. I was drawn to my particular project, A Survey of Global Open Access Policies, specifically because "policies" was in the title. While policy analysis was one aspect of the project, I ended up gaining more skills, experiences, and connections than I anticipated.
To begin, what is "open access?" Think about a time when you were writing a research paper and came across a website that contained all of the information you needed, but upon scrolling down a bit, you realized that you must pay to read the rest. There is an entire academic community all over the world who believe that research outputs should be freely available to all. Open access refers to both an ideology and movement to remove paywalls from journal articles, books, etc. Open access (OA) policies define the exact criteria and standards that researchers need to follow if they want their work to be fully accessible to the public.  
Originally, the goal of the project was for me and my fellow intern, Chelsea Padilla, to look at the OA policies of a particular group of 22 private foundations, the Open Research Funders Group (ORFG) and notice any trends. In the process, we noticed that it was not easy to find the OA policies on a number of the  the foundation websites. In some cases they appeared to lack a clear, stated OA policy even though they are advocates and supporters of OA work broadly. Foundations are key because they fund research projects and try to remove financial barriers that would prevent researchers from making their works free to the public by including conditions in their grant contracts that require grantees to publish work products or data from their research in OA. Thus, the project took a new direction and the research question became: How can we improve the accessibility and user experience of these websites? 
In the beginning of the internship, there were several informative MLS workshops intended to help us with our projects, and one of them about "Usability and Accessibility" became especially relevant since making OA policies more accessible is a crucial way to educate the public about open access. To answer the research question, we first compiled qualitative data on the foundations with columns that tracked both the presence and ease of finding both OA policies and vision statements. We also contacted certain foundations who had unclear or general OA policies and tracked how soon we heard back from them.

Sample of the columns in our spreadsheet of ORFG OA policies (actual data omitted)
From this data, we noticed common themes, such as inconsistency in the location of OA policies and difficulty with contacting some of the foundations. There was not a reliable or predictable way to find this information as a matter of user experience ("UX") and web design. As the main deliverable, we wrote our observations and recommendations into an executive summary that provides feedback from Chelsea and me as students.
One of the biggest challenges was the steep learning curve. I had no idea what open access was before this summer, but through reading materials like Open Access by Peter Suber, I began to grasp the concepts and terminology of OA. Furthermore, it was frustrating at first when OA policies were difficult to find or when foundations were unresponsive, but we were able to use these issues to write our executive summary.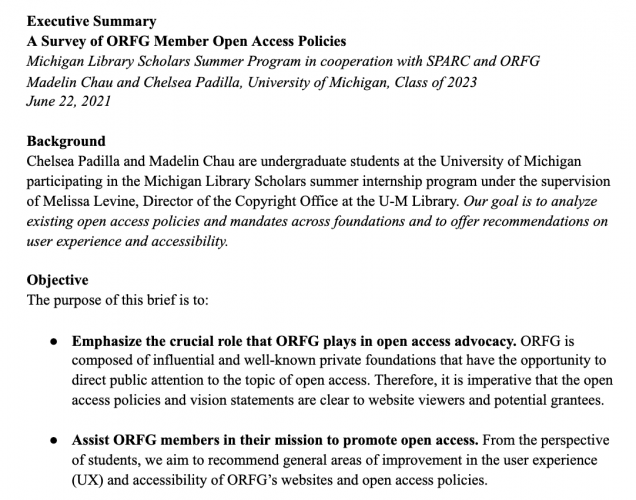 Sample of our executive summary, including the Background and Objective sections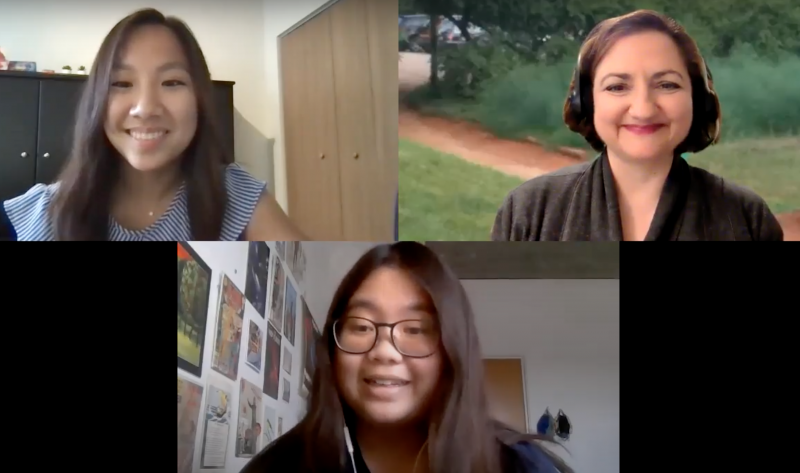 Screenshot of the video we sent to the ORFG to go along with our executive summary (top row from left to right- me and Melissa Levine; bottom row- Chelsea Padilla)
Through working with the ORFG, we were able to meet people who are extremely passionate about OA, including Dr. Erin McKiernan, the Community Manager of the ORFG and Katie Steen, Manager of Public Policy and Advocacy at the Scholarly Publishing and Academic Resources Coalition (SPARC). Although the main focus was the ORFG, we also looked at many other OA policies and websites during the internship. Towards the end of our time, we began to work with Environment and Climate Change Canada (ECCC) to analyze federal OA policies worldwide.   
Additionally, Chelsea and I had the opportunity to network with various faculty within the U-M Library who are advocating for open access in some way. Raven Lanier is a Copyright Specialist with the Library and the Center for Academic Innovation working on Massive Open Online Courses (MOOCs), which are classes that are free to the public. Paul Barrow is a subject specialist for philanthropy at U-M who has created free library guides that provide resources about non-profits. Jungwon Yang is a Public Policy librarian who recognizes the privileges U-M has as a large research institution, and she is advocating for more equitable resources for universities with libraries smaller than U-M. These interactions caused me to realize that there is a social justice element behind both open access and a library's purpose. Knowledge should not be reserved for the most educated and wealthy of society. Paywalls are divisive; open access is unifying.
Prior to this internship, I was thinking of attending law school to study international or human rights law and then work at an NGO or non-profit. Now, I am open to studying other types of policy and law, such as copyright and intellectual property. I'm also more aware of the ways that government, policy makers, and the academic community are working together to make the accessibility of information more equitable. This project helped me to grow my analytical and organization skills as we studied data, found issues, and offered solutions. I hope that our contributions to the ORFG will bring up more conversations about how to better engage the public in OA advocacy. 
I am immensely grateful to the Michigan Library Scholars Program and everyone who made it happen, including the mentors, fellow interns, workshop presenters, and librarians who were so generous with their time and expertise. Thank you especially to my mentor Melissa Levine, Director of the U-M Copyright Office, for opening my mind to the world of open access and having the vision for our project; to Chelsea for partnering with me on this fun but sometimes hectic ride; and to Gabriel Duque, the MLS program coordinator, for orchestrating everything and for consistently checking up on both the project and my well-being.