During the pandemic, I took up cosplaying again. For the past year, I have been working on and off one in particular with constantly redoing (trying to upgrade) certain parts. The last part that was needed to tie the whole thing together was the two swords the character uses. I had bought the files for it back in october, but I never had gotten around to start printing them. Part of this was due to each scimitar having seven pieces that needed to be print, which would be a lot of printing time to reserve. Then November came, and we received our lovely Fusion printer who is massive. On a whim, I decided to see if the printer could hold all seven parts at once and how long it would take… Not all that surprisingly, it could and it only took 17 hours!
During a slower week in february, I was able to print the first one over the weekend. I may or may not have been super excited to come back in and see the result. So, during a meeting for a design team I'm on that met in the Design Lab, I removed supports and started to try and piece together the parts. People were all super excited, and unfortunately a part broke, which ended up being reprinted with the other blade. Over the next few shifts, I sanded the interfaces down so they could fit nice and snug. Once that happened, we were all super excited. That's what the first photo shows.  Funny enough, we had some other people come in and end up printing some pretty crazy fantasy props as well. I like to think I started a trend.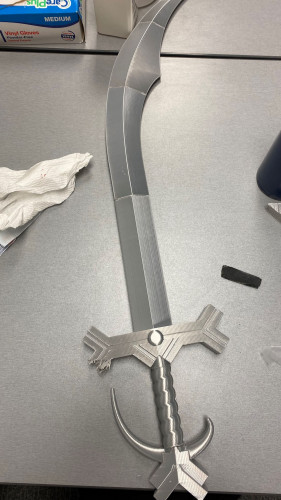 First sword after sanding. Joints where the pieces are connected are visiable in some places.
By far the worst part of assembling the blades was figuring out how to keep them together. There is a dowel that runs through the bottom portion of scimitar, so that partially helped. In the end, the pieces ended up being super glued together and then wrapped tight with masking tape to keep them in place. They sat for a majority of a shift in place so the glue could set. I was probably a little overzealous, but it's better to be safe than sorry. Unfortunately, one blade did come out a little crooked, but it adds character.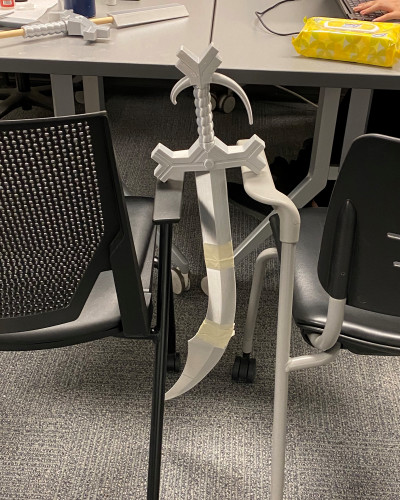 Masking tape and the joints of the glued pieces helped to hold the sword together while drying. 
To cover the seams, I used some epoxy that was then sanded down and painted. It isn't a perfect look, but it makes the blades look like they were pieced together somehow, which I actually quite like. Some preliminary paint was added while they still were in the lab. I am not a neat painter, so black paint got places it shouldn't have been. The silver paint I have is slightly transparent, so I couldn't just paint over the black directly. So, a silver sharpie was used to crispen the edges, then the silver paint was used to cover over the slightly different shade of silver that was in the sharpie.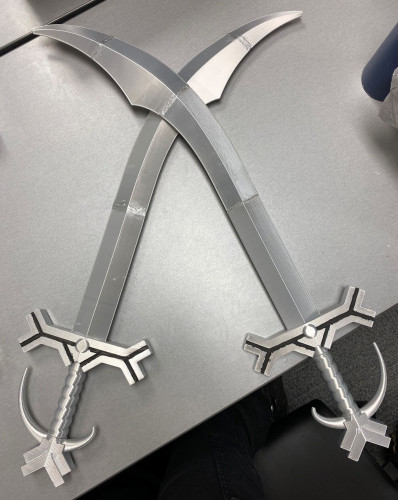 Twin swords almost completed
The blades were taken back to my apartment the Friday before spring break, and I felt pretty cool walking across campus with two sword hilts sticking out of my backpack. Back home, some decorations were added as well as the hilts being painted black. The last piece to be done was the small circle on the crossguards. I do not own any red paint, and it turns out the Design Lab didn't have any, but there was letterpress ink. It turned out really well! And because it is water soluble, it was super easy to clean/touch up compared to the black paint. I decided to have a little fun and give them a proper initiation by posing them with the character's coat and a peacock feather, which is a symbol associated with the character. Overall, I am extremely happy with how they turned out, and I am excited to piece the cosplay entirely together with the scimitars to tie everything together!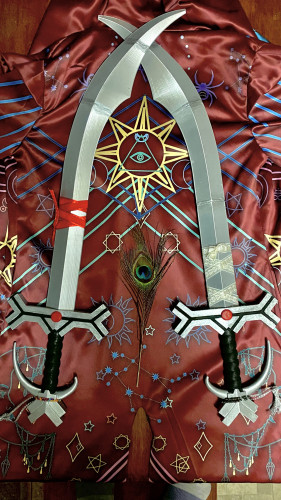 Completed simitars ready for their cosplay debut.
Tags: