A guest post by one of our student workers, Justin Ritenburgh.
The Spring semester has kicked off and orientation season is in full swing, so we thought it would be a good time to showcase our collection of games here at the CVGA. Here are a few visualizations for our collection of more than 8,000 video games, board games, game soundtracks, and more.
We started in 2008 with fewer than 1,000 titles by the end of the year, but our collection has steadily grown more to more than ten times that size!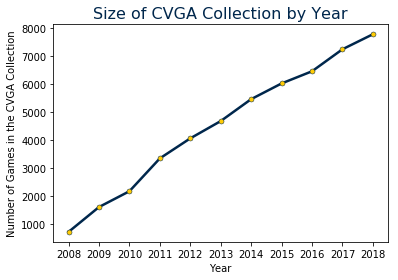 The bulk of our collection is made up of console games ranging from early titles on platforms such as the Odyssey 2 or NES all the way up to the modern systems, with the majority of our console games coming from the fifth generation of consoles, which includes the original PlayStation, Nintendo 64, and Game Boy Color, or later.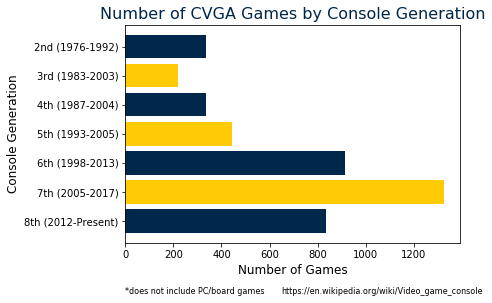 Computer games are another large part of our collection. These are the games that span the longest period of time, from back in the day when you needed multiple floppy disks to play a game to the present day, where it's as easy as booting up a launcher and downloading the game you want to play. The advent of platforms like Steam and Origin has dramatically increased the accessibility of games, and it shows in our collection; more than half of our PC games are digital downloads, including a Steam library of more than 700 games!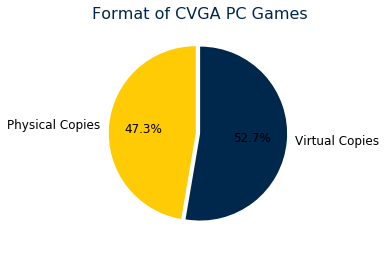 Technological advancement is great for gaming and gamers; it's easier to play games with friends than it ever has been before with online multiplayer, but it's not quite a substitute for sitting in a circle with friends and playing a game together. That's why we cannot forget to mention the more than 200 board games that we have here at the CVGA for those of us who enjoy that unique experience. We have the classics that everybody has played, but we also have many newer board games that you may not have heard of. In fact, most of our board games were published within the past ten years!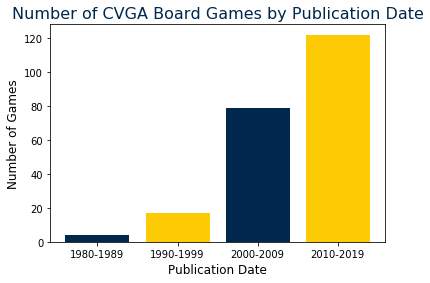 We hope that you thought these facts and figures were interesting, and are now inspired to come visit us and browse our collection. All of our materials are available for research, and almost everything is available to the public for casual play; you just need and MCard or a photo ID to play games from our collection. A searchable database of our collection can be found here, and you can see the newest additions to our collection appear in an RSS feed here, where you can also find our location and hours of operation.
We hope to see you soon!
Tags: