Posts tagged with engaged learning in Blog Student Stories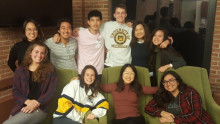 April 12, 2018
•
Project Alivio is a multidisciplinary global health project team that is a part of Michigan Health Engineered for All Lives (M-HEAL). Our goal is to reduce the incidence rate of pressure ulcers in San Juan de Dios hospital. What makes us unique as a project team is that our 19 students work as a co-design team with the Students Association of International Medical Research (SAIMER), a medical student organization from the Universidad de San Carlos in Guatemala City. As we design our solution, we are constantly receiving input from peers our age with more medical experience at our target location.

Pressure ulcers, or bedsores, form when a patient is exposed to pressure for a prolonged period of time. This pressure restricts proper blood flow to a certain area on the body, usually the coccyx, heels, back of head, or elbows, causing skin and tissue damage. To prevent pressure ulcers, nurses turn patients to offload the pressure exerted on the body. Pressure ulcers have high incidence rates in Guatemala City for many reasons, but the factor we are targeting is the understaffing of nurses.

Our team meets for several hours a week to design, build, discuss progress, and plan next steps. With the input of professors, physicians, and nurses from both universities, we hope to design a sustainable solution for our end-users. We also value offering our members a meaningful and educational project experience.

This spring, from April 29th to May 10th, seven of our members will be traveling to Antigua, Guatemala. In past, we have made two trips to Guatemala to conduct a needs assessment, which is how we narrowed the need to pressure ulcer prevention. This will be the first trip that is focused on the design itself. We will bring some sketches and prototypes of different concepts to show to our stakeholders to receive feedback. Besides the project itself, the trip will be a great opportunity for some of our newer members to learn more about the global health scene and feel connected to this project.