We are excited to continue our Special Collections After Hours open houses this semester, online and in person! Join us on the second Tuesday of each month at 4 pm for an encounter with our collections. Online events will take place via Zoom. In person events will take place in our presentation space in the Special Collections Research Center on the 6th floor of Hatcher Library South (room 660D). Once again, we've arranged an extraordinary line-up of events. All are welcome to join us.
13 September 2022 | A Perfect Pairing of Cookbooks and Dinnerware (4-5 pm online)
11 October 2022 | Reading Blessings on the Prophet: Manuscripts of Dalā'il al-khayrāt (4-5.30 pm, in person) 
8 November 2022 |  Labadie Collection Materials on Women's Reproductive Rights (4-5 pm, in person)
13 December 2022 | Treasures from our History of Medicine Collections (4-5 pm, in person)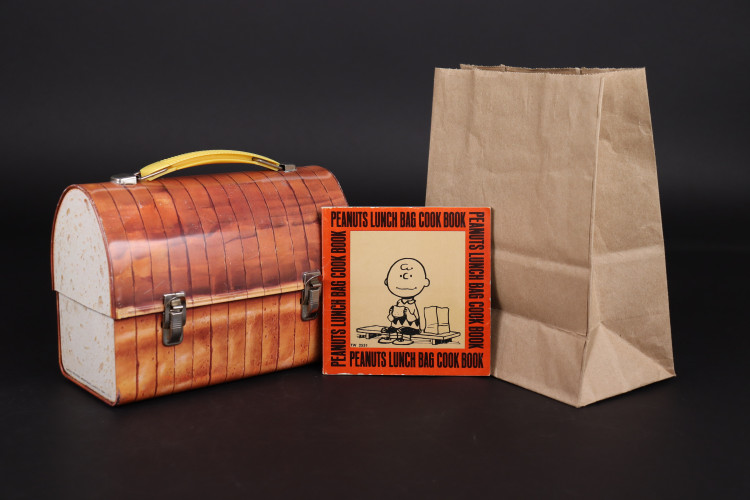 Peanuts Lunch Bag Cook Book by June Dutton. San Francisco: Determined Productions, 1970. From the Janice Bluestein Longone Culinary Archive. Gift of Janice Bluestein Longone.
Our first After Hours event will take place online Tuesday, 13 September, 4-5 pm via Zoom. 
Join curators Juli McLoone and Margaret Carney, PhD to discuss A Perfect Pairing, the current Audubon Room exhibit, which pairs cookbooks from the Janice Bluestein Longone Culinary Archive with dishes from the International Museum of Dinnerware Design. 
We'll begin at 4:00pm with a pre-recorded tour of the exhibit via Zoom, followed by Q&A in real time. Please register to attend this remote event via Zoom. We hope you'll be able to join us!
Tags: