Named after the Spartacus League of Weimar Republic in Germany, the Spartacist League was (and still is) comprised of several Trotskyist groups, which are sections of the International Communist League (Fourth Internationalist).
Its Israeli branch, the Spartacist League of Israel, published the journal Sparṭaḳisṭ 4 (ספרטקיסט 4) between 1973 and 1975 approximately.  The University of Michigan Library Joseph A. Labadie Collection holds volume 5, which was issued in Jerusalem in the winter of 1974-1975. It is 22 pages long, stapled, and was sold for 2 Israeli liras (an annual subscription cost 8).
Featured in the image above, the front article discusses the global economic crises that started in 1974, the rise in oil prices ($12 a barrel at that time), and the role of the Organization of the Petroleum Exporting Countries (OPEC).
To illustrate the discussion, the article includes the portraits of Mohammad Reza Pahlavi (1919-1980), the last Shah of Iran, and of Faisal bin Abdulaziz Al Saud (1906-1975), King of Saudi Arabia. A drawing between their portraits suggests the flow of oil as well as money from one country to the other. 
Other articles in this volume address topics such as the link between the Jewish working class and the Zionist movement, the oppression of women in the State of Israel, the subjugation of national aspirations in the Israeli ocuppied territories, and the protests carried on by the Organization of Arab Students at the Hebrew University of Jerusaelem as well as by Iranian students in the United States. 
The last page features the section "Marxist literature" and refers to other versions of the Sparṭaḳisṭ 4 – such as the German, French, and English editions.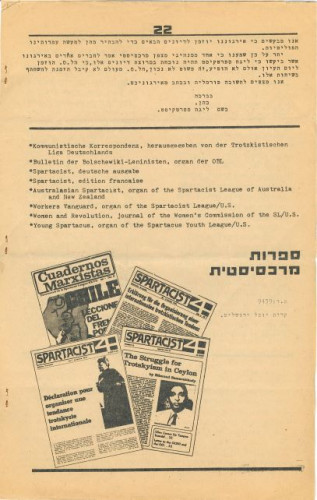 As of June 2022, Sparṭaḳisṭ 4 is one of the 22 Hebrew titles housed at Joseph A. Labadie Collection. 
Tags: