Culinary historian and Adjunct Curator Janice Bluestein Longone passed away on August 3, 2022 at the age of 89. Jan was the principal donor and driving force behind the formation of the Janice Bluestein Longone Culinary Archive, the culmination of a life-long interest in culinary history that she shared with her husband Dan Longone, University of Michigan Chemistry Professor Emeritus.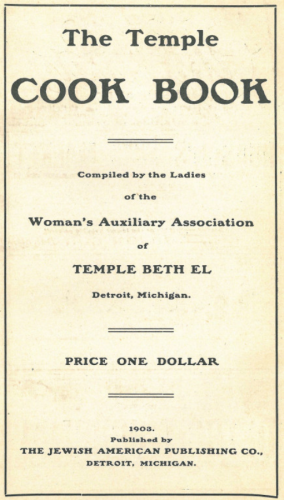 The Temple Cook Book, Compiled by the Ladies of the Woman's Auxiliary Association of Temple Beth El, Detroit, Michigan (1903)
For many years, Jan Longone served up culinary history from her mail-order bookshop in Ann Arbor, The Wine and Food Library, counting luminaries such as Julia Child and James Beard among her customers. In the 1970s, she found a growing audience for culinary matters by hosting the radio show "Adventures in Gastronomy" on National Public Radio (WUOM). In 1983, Jan founded the Culinary Historians of Ann Arbor and served as its president until 1988. Jan was also a founding member of the American Institute of Wine and Food (AIWF). She wrote "Notes on Vintage Volumes" for Gastronomica, and contributed to the Oxford Companion to Food and The Oxford Encyclopedia of Food and Drink in America.  Among Jan Longone's numerous honors are the Food Arts Silver Spoon (2001), the Amelia Award for Lifetime Achievement in Culinary History from the Culinary Historians of New York (2011), and the Carol DeMasters Service to Food Journalism Award (2018). She curated more than 16 exhibitions and symposia. Some of her recorded exhibit lectures remain available online, including The Old Girl Network: Charity Cookbooks and the Empowerment of Women and Dining Out: Menus, Chefs, Restaurants, Hotels, & Guidebooks.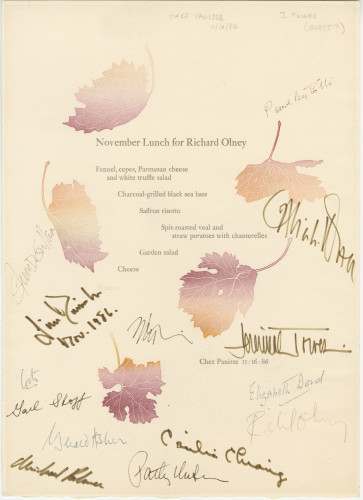 November lunch menu for Richard Olney by Chez Panisse (Berkeley, California), 1986. From the Jeremiah Tower Menu Collection.
In the early 2000s, Jan and Dan Longone began donating materials to form the Janice Bluestein Longone Culinary Archive (JBLCA), which now resides in the Special Collections Research Center at the University of Michigan Library. The JBLCA encompasses more than 20,000 items, ranging from Early Modern cookbooks and 19th century manuscript cookbooks, to 20th century advertising ephemera and an extensive menu collection.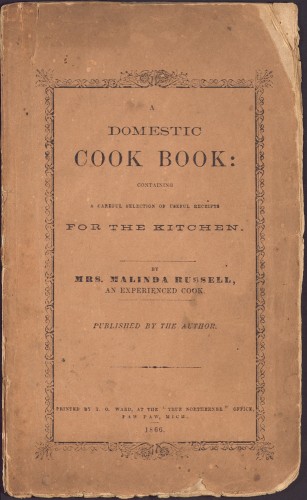 A Domestic Cook Book by Malinda Russell (Paw Paw, MI: The Author, 1866). 
It is thanks to Jan's driving passion and vision for the JBLCA that the University of Michigan now holds a world class culinary collection supporting a wide array of courses, students, and researchers studying the roles of food & drink in society, social and household history, the 20th c. industrialization of the American food system, and representations and expectations surrounding gender roles, race, and class in society. As Adjunct Curator, Jan remained actively involved in developing and curating the collection as it grew. On a personal level, as the curator of the Janice Bluestein Longone Culinary Archive, I will greatly miss Jan's insight and incisive commentary on additions and directions for the collection, as well as her kindness and willingness to share her vast knowledge of so many domains in culinary history.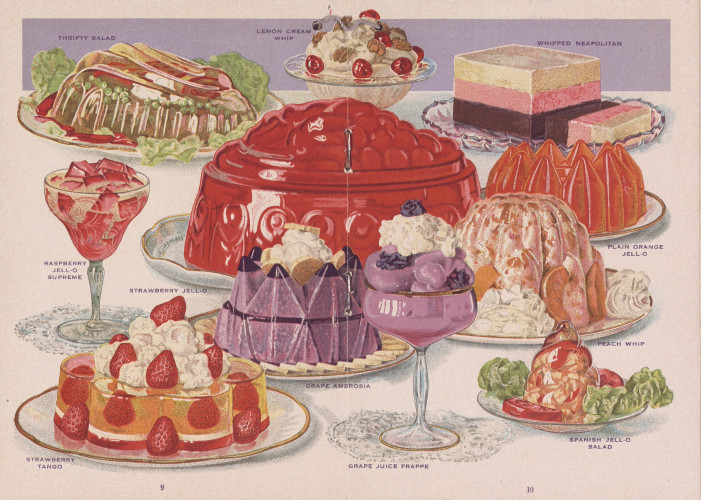 Jell-O America's Most Famous Dessert (19--) from  Genesee Pure Food Co.
Below we have linked some of the newspaper articles that have been published memorializing Jan Longone:
Severson, Kim. "Jan Longone, influential scholar of food history, dies at 89." New York Times, Aug 13, 2022. 
Langer, Emily. "Janice Bluestein Longone, doyenne of cookbook collectors, dies at 89." The Washington Post, Aug. 10, 2022. 
Associated Press and Susan Selasky. "Janice Longone, chronicler of US culinary history, dies at 89." Detroit Free Press, Aug. 7, 2022
Watson, Robin. "Prominent culinary historian offered food for thought." Detroit News,  Aug. 5, 2022.