---
Guest post by Andrew Wilhelme, a second year graduate student in the School of Information Sciences at Wayne State University. This article is partial fulfillment of the Archival Administration Practicum. 
---
Before punks, hippies, and beatniks there were hobohemians. Born in reaction to an increasingly urban and industrial American society, these radicals combined a working class consciousness with a rejection of rampant materialism to create a bulwark against a rising tide of greed and exploitation. The Hobohemia Collection in the Joseph A. Labadie Collection gives a glimpse into this subculture through the writings and artifacts of two prominent hobohemians, Jack Sheridan (1905-1967) and Slim Brundage (1903-1990), shining a light on a mutinous spirit that bubbled just below the surface of the American status quo. 
The oscillating nature of late nineteenth and early 20th century American capitalism wreaked havoc on those on the lowest rungs of the working class. These lumpen proletarians, commonly called hobos, spent their lives on roads and rails searching for work and communing with fellow travelers who shared similar challenges on the margins of society. Many came to reject the economic system that offered them little and extracted so much. Instead they embraced radical ideas like the ones espoused by the Industrial Workers of the World (I.W.W.), which was headquartered in Chicago. Wobblies, members of the I.W.W., sought to create a "One Big Union" of the working class that would seize power from the capitalist class and distribute it to the masses.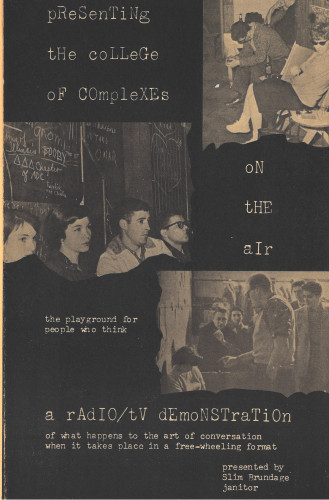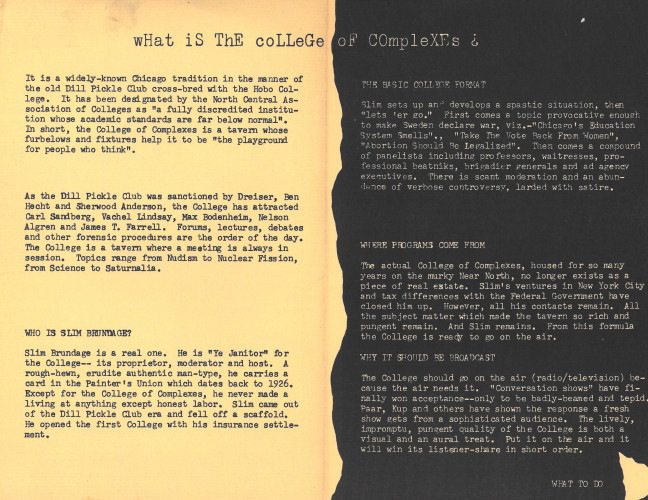 Proposal for College of Complexes radio program
Although hobohemias existed in a number of cities, Chicago's was the most famous. The city's prominence as a major railroad hub coupled with its growing status as a burgeoning industrial and commercial center, attracted waves of itinerant laborers in search of work. Upon arriving at the sprawling railroad yards on the city's southside these hobos would head to Madison street, just west of the loop, seeking jobs, shelter, and cheap food. Many would stay a short time before picking up and heading elsewhere in search of better opportunities. Others would settle down for a longer stay and join the vibrant hobohemian subculture. 
One of the most intriguing settings in Chicago's hobohemia was "Bughouse Square" and its environs. Located on the city's near north side, Bughouse Square was well known for its array of soapbox orators representing a broad spectrum of political and social opinion. Proletarian intellectuals blended with artists and poets in Bughouse Square to promote both cultural and political revolution. The infamous Dil Pickle Club, an indoor version of Bughouse Square, was located a few blocks away. This speakeasy and music venue hosted a variety of events including debates, poetry readings, one-act plays and jazz dances.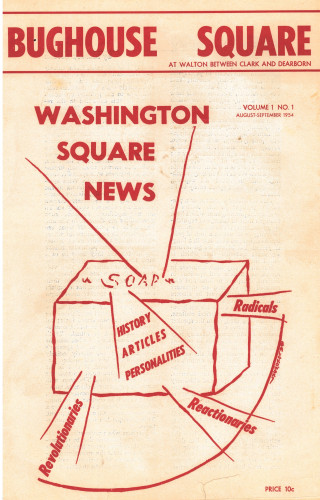 Slim Brundage's papers make up a majority of the Labadie Hobohemia Collection. Though he described himself as a house painter throughout his life, Brundage was also a union activist and organizer as well as a prolific, albeit rarely published, writer. He is perhaps most known for his creation and management of the "College of Complexes", a venue that hosted a variety of events including debates, poetry readings, beauty contests, and live music. Patterned off of the vibrant years of the Dil Pickle Club, Brundage opened the college in 1951 and assigned himself the job of janitor. After ten years and two locations the IRS notified Brundage that he owed over $100,000 in back taxes which, along with harassment from the City of Chicago and troubles with creditors, forced Brundage to close the College of Complexes in 1961. Nonetheless he continued to organize and promote open forum debates and miscellaneous events under its name over the next three decades at various locations around Chicago.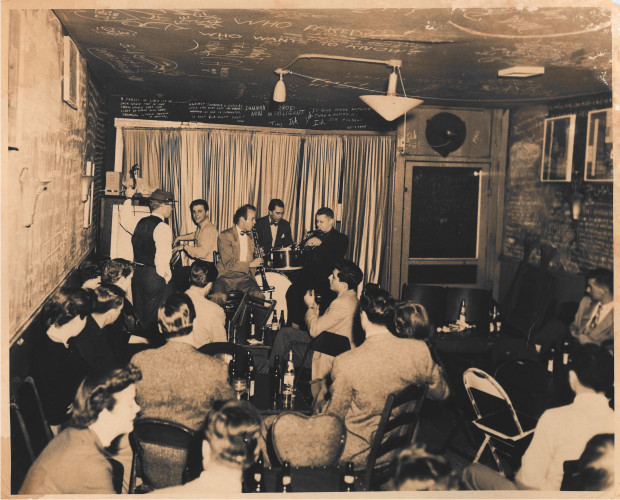 Buddy Charles on the piano at the College of Complexes, 1950s
Included within Brundage's papers is an intriguing selection of curricula for the College of Complexes. Each curriculum is a monthly listing of events and debate topics, including speakers, held at the College. Though the design changed over the years, dueling themes of serious intellectualism mixed with wit, humor, and a general contempt for social conformity runs throughout. The College is described as a "Playground for people who think" where "minors are admitted if accompanied by their Grandchildren." Weekends featured debates and lectures and included titles such as "Is Religion the Opiate of the People?," ''The Theory of Relativity explained so even you can understand it," and "Smut, Erotica, and Dirt." Other days hosted weekly events - jazz on Wednesdays, poetry every Sunday, while Mondays were reserved for "Washing and Ironing."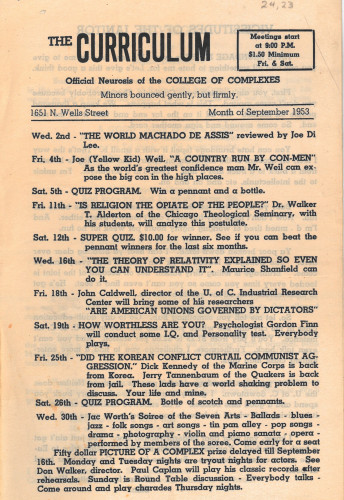 September 1953 College of Complexes Curriculum 
Curricula flyers also featured short essays authored by Brundage. These writings, like the College of Complexes and its curricula, are riddled with seemingly contradictory tendencies of intellectual severity and sardonic comedy bordering on ridiculousness. Surely Brundage's ravings were dismissed in the postwar era of conformity and McCarthyist paranoia, but I find them to be a breath of fresh air and a fitting response to an often absurd and nauseating modern world, a world that has only worsened with the passage of time.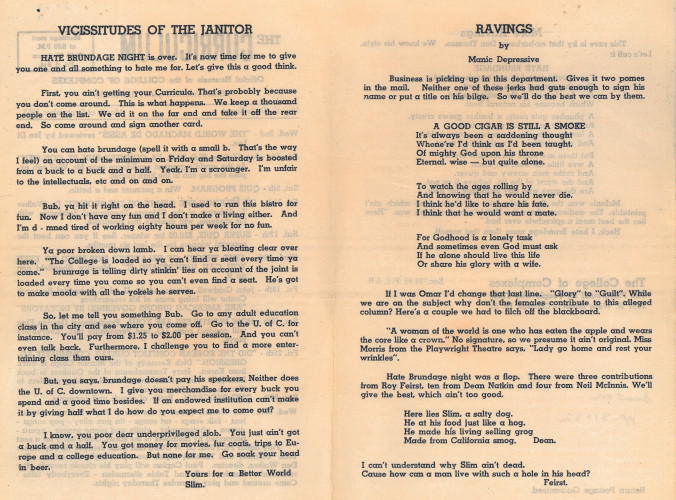 This essay gives only a peek into the Hobohemia Collection, an accumulation of sixteen boxes of material in total. I encourage anyone interested in American radicalism to peruse its finding aid (created by Anne S. Johns) on the Labadie Collection's website. 
Tags: