The Special Collections Research Center is pleased to announce a new exhibit,A Perfect Pairing, on display in the Audubon Room from July 7, 2022 to September 29, 2022. An online version of A Perfect Pairing is available on the website of the International Museum of Dinnerware Design. 
A "perfect pairing" usually refers to a taste compatibility between wine and a food group, such as wine and cheese. In this exhibit, curators Juli McLoone and Margaret Carney have paired a dozen selections from the Janice Bluestein Longone Culinary Archive (Special Collections Research Center) with selections of dinnerware from the International Museum of Dinnerware Design.
From Ironstone dinnerware once used in a Pennsylvania logging camp paired with author and abolitionist Lydia Marie Child's recipe for beans, to Glidden earthenware decorated with poodles and paired with actor and producer Lucille Ball's tips on menu planning, it is our hope that these pairings will serve as catalysts for the historical imagination, as you "visit" the kitchens and dining rooms of the past through the exhibit. 
---
The Janice Bluestein Longone Culinary Archive (JBLCA) brings together a diverse body of materials documenting the production, promotion, preparation, and consumption of food and drink, with a particular focus on American culinary history. The collection originated with the donation of a rich assemblage of cookbooks, menus, and other material by culinary historian and adjunct curator Janice B. Longone and her husband, University of Michigan professor emeritus Daniel T. Longone. It continues to expand and develop today. 
The International Museum of Dinnerware Design (IMoDD) was established in Ann Arbor, Michigan, in 2012 with the knowledge that dining is a shared experience that can bridge together different communities. It is the only museum in the world dedicated to celebrating dining. While conceptually an art museum, a food-centric celebration of dining has been a key feature since its inception. The permanent collection of more than nine thousand objects features international dinnerware from ancient to futuristic, created from ceramic, glass, metal, plastic, lacquer, fiber, paper, wood, and more.
---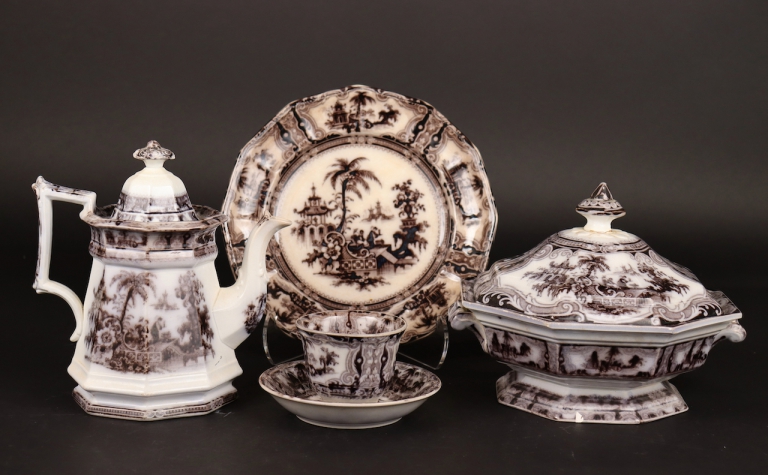 John Meir and Son, Greengates Pottery, Tunstall, Staffordshire, England (1837–1897). Ironstone dinnerware, Kyber pattern, circa 1838. Ironstone china, glazed, with decals. IMoDD 2017.82. Gift of Russell and Sheila Stevens.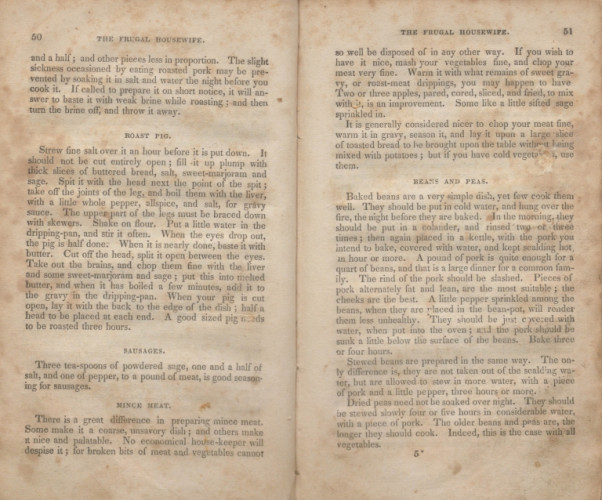 Lydia Maria Child. The American Frugal Housewife: Dedicated to Those Who Are Not Ashamed of Economy. 22nd Edition. New York: Samuel S. & William Wood, 1838. The Janice Bluestein Longone Culinary Archive.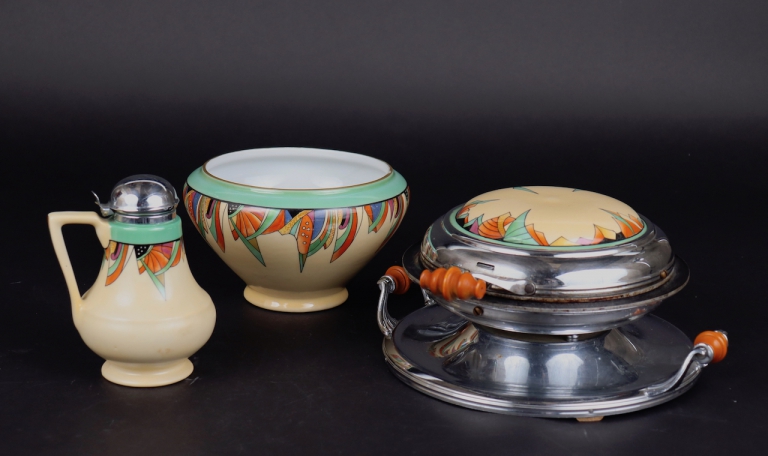 Robeson Rochester Corp., Rochester, New York; and Fraunfelter China, Zanesville, Ohio, 1923–1939. Art Deco Royal Rochester Modernistic syrup, batter bowl, and waffle iron with cord, ca. 1928. China, hand-painted, and chrome. IMoDD 2018.64. Gift of Judith and Martin Schwartz (syrup); 2019.182 (batter bowl); and 2018.86 (waffle iron). Museum Purchases.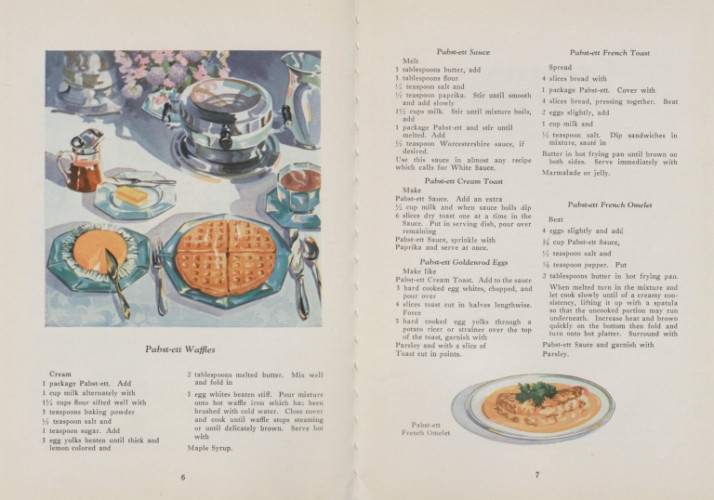 Alice Bradley. Breakfast to Midnight, Recipes with Pabst-ett. Milwaukee, Wisconsin: Pabst Corp., 1929. The Janice Bluestein Longone Culinary Archive. Gift of Janice Bluestein Longone.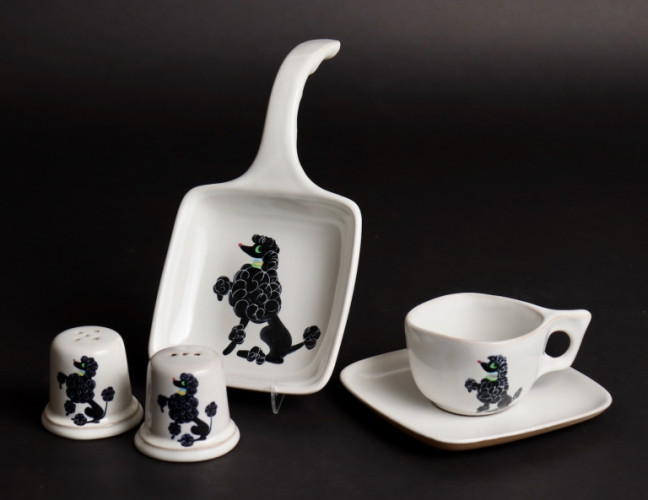 Glidden Pottery, Alfred, New York (1940–1957). June Chisolm, decorator. Chi-Chi Poodle shirred egg server, squared cup and saucer, salt & pepper shakers, 1951–55. Earthenware, glazed, hand-decorated. IMoDD 2016.131. Museum Purchase (shirred egg server); 2013.68 Gift of D. Philip Baker and Julie Baker Boyer from the Collection of Mildred Higgins Baker (cup and saucer); 2014.193 Museum Purchase (salt & pepper).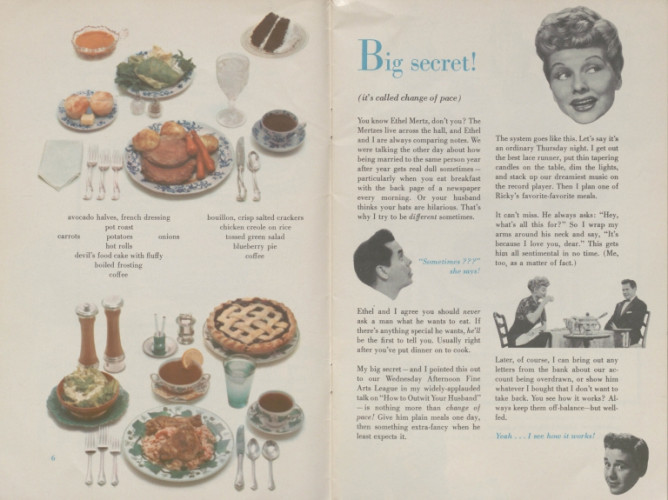 Lucy's Notebook!: With Inside Secrets on Favorite Menus, Recipes, and Good Entertaining by the Star of "I Love Lucy." [New York?]: Philip Morris, [1950?]. The Janice Bluestein Longone Culinary Archive. Gift of Janice Bluestein Longone.