By Ève Bourbeau-Allard and Julie Herrada
---
Photograph of Carlotta Anderson at the Bubbling Waters site, formerly Jo and Sophie Labadie's property and now part of   Kensington Metropark, MI. Anderson's papers include two research files on the site.
In the preface to her authoritative biography of her grandfather, All American Anarchist: Joseph A. Labadie and the Labor Movement (Wayne State University Press, 1998) Carlotta Anderson recalls her first visit to the Labadie Collection in 1984. After using the archive  in the process of writing the biography, Anderson remained a dear friend of the Labadie Collection for the rest of her life. Shortly before her death in 2014, she donated important papers that further documents the Labadie family history and are described below.
Born in 1929 to Fred Hauser and Charlotte Labadie, Anderson made a career writing for newspapers and magazines in the United States and Germany. The papers she donated to the Labadie Collection reflect her fascination with her family's history. As the only grandchild of Jo and Sophie Labadie, Anderson collected genealogical information and preserved original family documents. Reaching back in time to the early French ancestors, she researched the history of anarchism, labor unions, and Detroit history prior to the auto industry,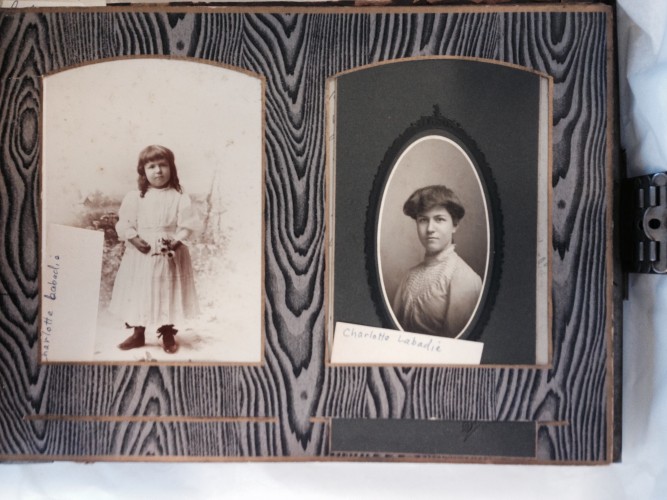 Photographs of Charlotte, daughter of Jo and Sophie Labadie, from one of the three albums donated by Anderson. In fragile condition, the albums hold tintypes and paper photographs of the extended Labadie family circa 1890s-1900s. 
Carlotta's papers feature a number of valuable documents from the late nineteenth and early twentieth centuries, including what might be the earliest letter from Labadie held at our institution. Likely written in someone else's hand, the letter is dated February 7, 1866. Writing from South Bend to an aunt, fifteen-year-old Jo passes on news about family members and asks to be sent pictures of his little cousins, to which he adds "we would send you ours but we are to[o] poor to get them taken."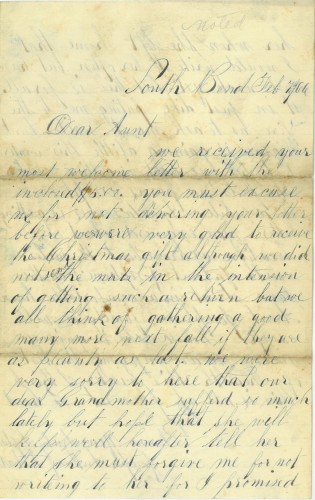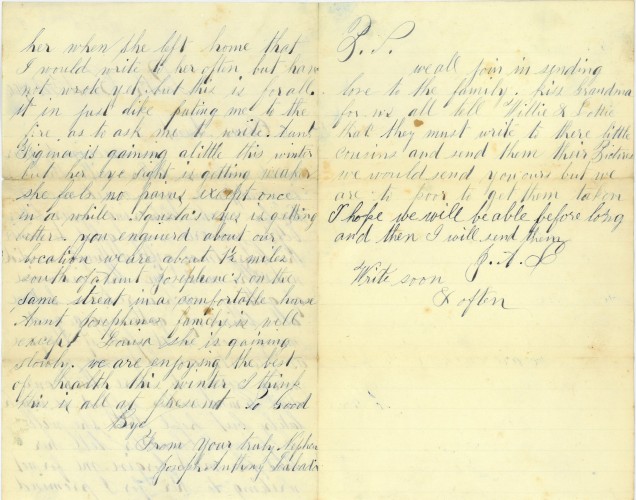 Spanning forty years, and covering as much daily news as philosophical conversations, the correspondence between Anderson and her uncle Laurance is another highlight of the collection. For instance, the year 1947 saw a spirited exchange on the meaning of liberty and the acquisition of knowledge as Anderson started her education at the University of California. In July, learning that his niece was planning to study political science, Laurance commented wryly that "well, to me, politics is the art of plunder, and they sure make a science of it" and encouraged her to approach her classes with a critical mind. A month later, Anderson prompted Laurance to tell her "exactly what you believe in. You call it anarchy -- I have only a vague conception of what it is. It can't mean a lack of society, for as long as people have any respect for their neighbors there is a society of sorts."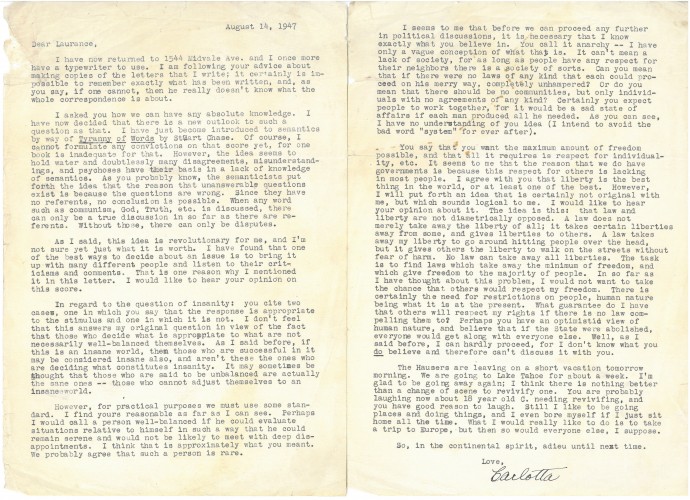 Lastly, Anderson's files on Labadie family history contain original photographs, photo albums, and memorabilia, as well as genealogical notes, indexes, and photocopies of secondary sources. Her papers have been inventoried and are opened for research.
Tags: