We are pleased to invite you to a panel regarding the discovery of the forgery of our Galileo manuscript: on October 6, @7:00 pm. Hosted by the U-M Detroit Observatory in Ann Arbor, Nick Wilding (Georgia State University) and Pablo Alvarez (University of Michigan Library) will be discussing various aspects surrounding this extraordinary document, including its alleged historical significance, the fascinating process establishing it as a 20th-century fake, and the lessons that we can all learn from the unmasking of this forgery.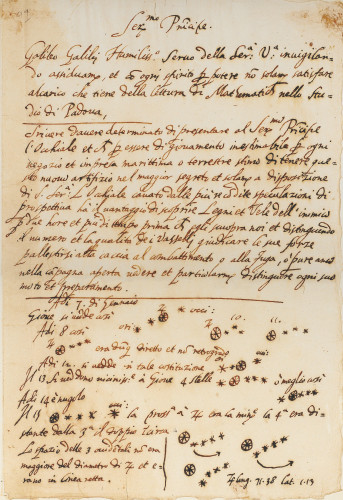 Allegedly, the document includes a draft letter to the Doge of Venice (1609) and Galileo's telescopic observations of the moons of Jupiter from January 7 to January 15, 1610. 
The top half of this manuscript, supposedly written by Galileo, concerns the presentation of a telescope to the Doge as an instrument for the early sighting of enemy forces approaching by sea or land. This event took place on 24 August 1609.  In the lower half of the page, also allegedly written by Galileo, there are draft notes recording telescopic observations of the moons of Jupiter, 7 to 15 January 1610. 
Unquestionably, the U-M Detroit Observatory is the most suitable venue to host an event about the forgery of our Galileo document.  In 1938, during a meeting held at the Detroit Observatory, the Galileo manuscript was officially bequeathed to the University of Michigan. The manuscript and our copy of the first edition of the Sidereus Nuncius (1610) will be on display during the October event. Following the panel, the audience will be invited to observe the authentic moons of Jupiter by using a telescope similar to the one employed by Galileo and by using the historic 12.5″ Fitz refracting telescope in the Observatory's dome.
The U-M Detroit Observatory is located at 1398 E. Ann Street (at the corner of Ann and Observatory Streets) in Ann Arbor, MI. Please use the entrance to the addition on Observatory Street.
In-person registration can be found here.
Virtual registration can be found here.
Please click here for more information.