Fifty years ago, on March 16, 1968, in the Vietnamese village of My Lai in Quảng Ngãi Province, American soldiers rounded up over 500 men, women, children, and babies into a ditch and summarily executed them at point blank range. In addition, some of the women and girls were brutally raped before being killed, and many were also badly beaten. The incident was kept from the American public for 18 months, while the U.S. Army covered it up. Eventually, the murders became public and an investigation ensued. 26 officers and soldiers were charged for the massacre and the cover-up. Despite testimony that over a dozen American soldiers were involved, only one, Lt. William Calley was convicted. His sentence was three and a half years under house arrest. He was subsequently paroled by the Secretary of the Army, Howard "Bo" Calloway.
Colonel Henry Tufts was in charge of the U.S. Army Criminal Investigation Division (CID) which conducted the My Lai investigations. Tufts was a career officer who operated his unit strictly by the book. He disagreed with the Army's handling of the case and was vocal about his opinion. After the investigation, he was forced into retirement, but before doing so he made copies of all the reports from the massacre investigation, as well as other criminal investigations under his watch. He arranged through a journalist friend that the documents would be transferred to a library upon his death. After Tufts died in 2002,  the reports were deposited in the University of Michigan's Joseph A. Labadie Collection, where they now form the Col. Henry Tufts Papers.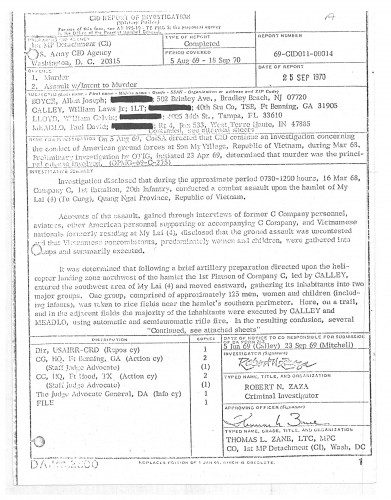 First page of CID Report of Investigation (RoI) describing how Vietnamese women and children were divided into groups, taken to rice fields and executed using automatic and semiautomatic rifles. From the Col. Henry Tufts Papers, Box 2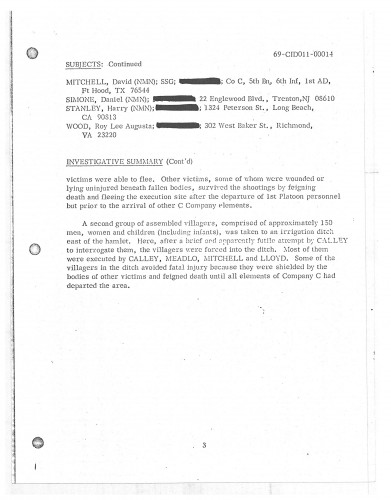 Second page of RoI describes that some victims were able to flee, while others were shielded by bodies of other victims and feigned death, allowing them to escape after the American soldiers departed. Some of these victims became witnesses during the investigation. From the Col. Henry Tufts Papers, Box 2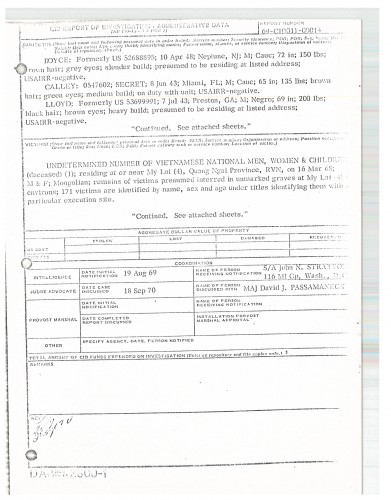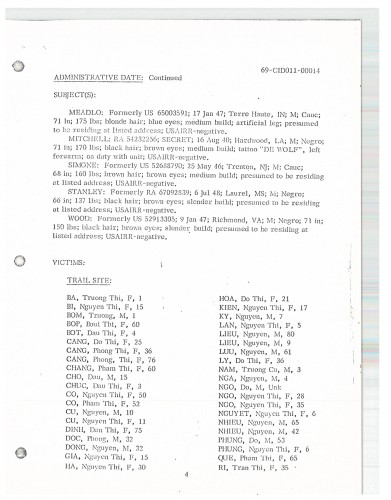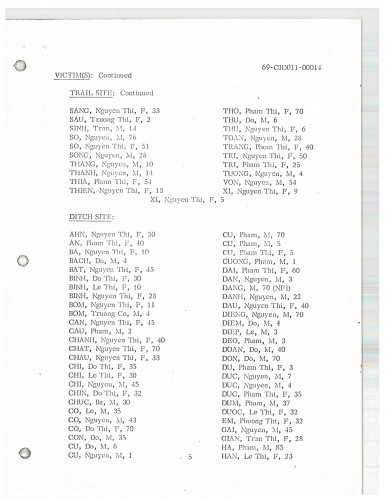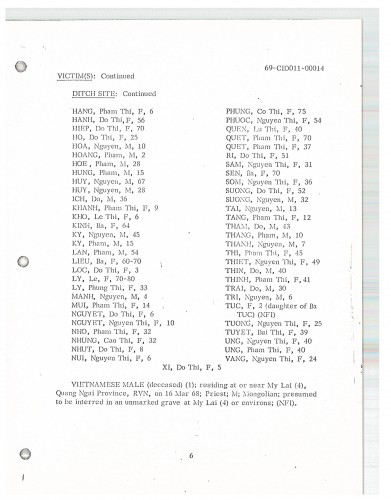 Alphabetical list of victims, aged 1 to 80, grouped by location of body. From the Col. Henry Tufts Papers, Box 2
In 2003, Michael Sallah and two other reporters for the Toledo Blade newspaper, wrote a Pulitzer Prize winning series of articles about Tiger Force,  a reconnaissance patrol unit which fought in the Vietnam War and allegedly committed numerous war crimes, including those at My Lai. For their research, they relied in part on the Col. Henry Tufts Papers.
In addition to the Col. Henry Tufts Papers, the Labadie Collection's holdings on the Vietnam War include posters, buttons, thousands of primary source materials including pamphlets, books, audio recordings, and ephemera on the opposition to the Vietnam War, as well as materials from Vietnam.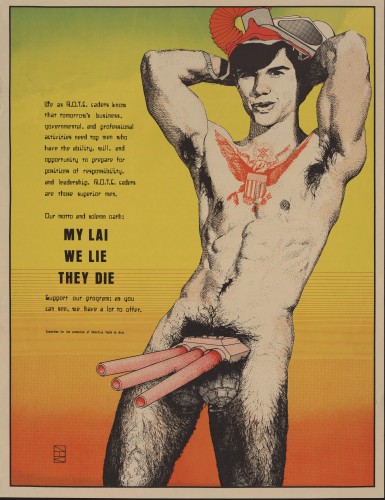 Satire anti-war poster produced after the news of the My Lai Massacre broke: "We as ROTC cadets know that tomorrow's business, governmental and professional activities need top men who have the ability, will and opportunity to prepare for positions of responsibility and leadership. ROTC cadets are those superior men. Our motto and solemn oath:
MY LAI
WE LIE
THEY DIE.
Support our program: as you can see, we have a lot to offer
Committee for the Protection of Selective Youth-in-Asia."
Tags: