In the fourth century A.B.C., Aristotle had a few very important words to say about kindness.  As translated from the Greek, he concluded that "Kindness may be defined as helpfulness towards someone in need, not in return for anything, nor for the advantage of the helper himself, but for that of the person helped. Kindness is great if shown to one who is in great need, or who needs what is important and hard to get, or who needs it at an important and difficult crisis; or if the helper is the only, the first, or the chief person to give the help."
In 1983, Edward Loyer, the first Chair of the University of Michigan's Council for Disability Concerns is reported to have said that, although he has had the opportunity to be surrounded by many very intelligent, very well-educated university colleagues, he has concluded over the years that it is more important to be kind to others than to be smart.And, of course, we know that closer to our own era the Dalai Lama, whom many of us saw and heard speak at Crisler Arena a few years ago, announced: "My religion is very simple. My religion is kindness."
If you check with Google on the Internet under "kindness" you will discover many screens filled with steps to take and lists of hints about how to be kind to yourself and to others. Facebook often contains narratives of people helping others, and, significantly, these particular sites appear to be very popular, frequently having been viewed by thousands of fans. For example, some of us post stories of dog rescues, both of dogs rescuing human beings and of dogs being rescued themselves, as the situation warrants.  Again, these podcasts or photographs are very appealing to viewers and epitomize kindness between species; they garner many "Likes" and are often shared with others.
Another feature of Facebook are the little personal, heart-warming stories that appear regularly such as "Morning Smile":

I wanted to say THANK YOU! It is such a blessing to wake up every morning and read about kindness. It restores my faith in humanity and reminds me there is more goodness in the world and it's up to us to focus on that rather than all the negativity. Thank you for bringing joy into my home daily. Keep up the great work. The world needs more of this." – Kathleen R.
Turning from the examples of kindness that we can see on the Internet to examples in literature, we find that in A.A. Milne's "Winnie-the-Pooh" its main protagonist is a fine example of the philosophy of kindness. Among the various characters in this book, we have Piglet, who is sometimes cowardly and occasionally brave; Owl, who is wise and mostly taciturn; Kanga, who is motherly and totally devoted to her offspring Roo; Tigger, who is exuberant and quite jumpy; Eeyore, who is a bit of a pessimistic loner but a lovable one; and Rabbit, who hops in and out of the story.  But the real hero in the Hundred Acre Woods, the one that the reader remembers and loves best is the kindest one, "the Bear with very little brain" and that, of course, is Winnie-the-Pooh. He is altruistic, considerate, and conscientious, remembering to visit his friends when they are lonely. Also, Winnie, despite certain endearing limitations in intellect, is compensated by his loving nature, and led by his kind heart, he can also be very helpful when catastrophe strikes.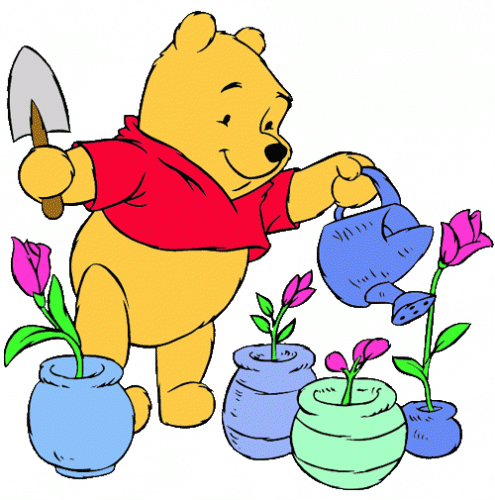 Image obtained from Disneyclips.com
These are just a few of the factors that make us realize that although technology advances constantly and is ever more useful to people of every type and in every area of the world, kindness as presented, portrayed, and carried out by the human factor--is still what most other humans need and crave.  Needless to say, this very simple but most important the theory of kindness clearly is one that, for best results, needs to be put into further practice by everyone, everywhere, every day.
Tags: