By Nabeela Jaffer and Maurice York
Academic library service portfolios are mostly a mix of big to small strategic initiatives and tactical projects. Some are well-defined development projects with a fixed timeline, while others are ongoing support and legacy systems needing IT resources in order to update and sustain them. The needs and aspirations of the service and programmatic areas of the library (public services, research data services, special collections, etc.) are constantly evolving to adapt to the changing needs of students and faculty, driving requests for new features and functionality and even for entire new systems. At the same time, systems developed in the past can become a durable bedrock of workflows and services around the library, remaining relevant and needed for five, ten, and sometimes as long as twenty years. There is, of course, never enough time and resources to do everything. The challenge faced by Library IT divisions is to balance the tension of sustaining these legacy systems while continuing to innovate and develop new services. The University of Michigan's Library IT portfolio has legacy systems in need of ongoing maintenance and support, in addition to new projects and services that add to and expand the portfolio. We, at Michigan, worked on a process to balance the portfolio of services and projects for our Library IT division.
Cycle Planning Process: Reviewing & Prioritizing Requests and Portfolio Resource Allocation
Cycle Planning is a process of reviewing, prioritizing, and allocating IT resources to the work while keeping the process transparent in order to provide a pathway to solutions that fulfills the needs of our stakeholders. It aims to support innovation, improved service with greater efficiency, and increased access while engaging service owners as active partners in the process, rather than customers. We define our work cycles as 4-month periods aligned with the fiscal year. Before the start of each cycle, there is an open call for new requests, and all the new requests are reviewed by a diverse group of IT professionals as well as service librarians.
In January 2020, we started working towards defining our portfolio into three categories: 
strategic initiatives - high-profile projects aligned with strategic objectives of the library, which often require work over multiple cycles  
tactical projects - smaller projects of importance to one or more service divisions, which can often be completed within one work cycle 
operational work - ongoing support and maintenance of existing systems and services that are in production 
Before the start of each cycle, the Library IT Coordinating Group meets to prioritize the projects, define the timeline, and allocate staff time. Library IT Coordinating Group was established in October 2017 with the purpose of providing efficient, functional, focused, and open coordination across LIT's full portfolio of services. 
LIT staff work on development projects while also maintaining the operations of existing services.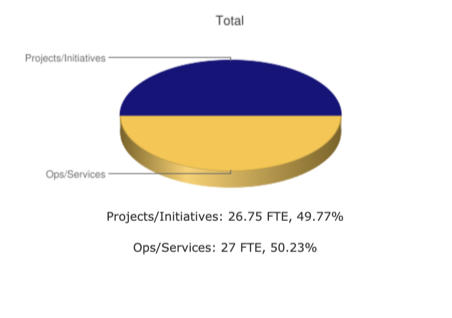 For this reason, we think of each staff having 4 chips (the equivalent of a quarter of their time, or .25 FTE) that can be assigned to different projects and operations. To keep the planning focused on the high-level view of our portfolio, the general rule is that no person's time can be split into more than four pieces. To break it down further, the staff chips are also defined as service/operational chips and development chips. For example, John Doe works on Institutional Repository upgrades and new developments while sustaining the service in production; he is assigned 2 chips for development and 2 for operations. The process is purposefully designed as an estimating exercise rather than a precise allocation of hours. This allows us to have a joint, high-level discussion that looks at our overall capacity and the relative balance of time we are spending on project and operational work, and avoid diving into the weeds.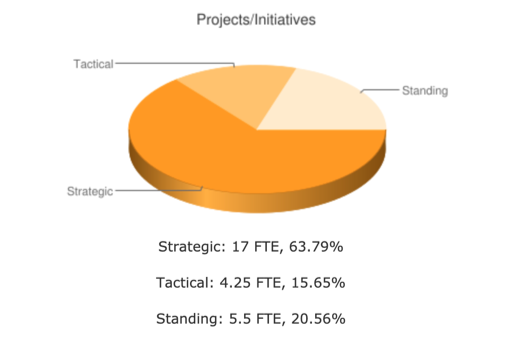 The total of all staff allocation is represented on the cycle planning board (as shown in the above picture). All staff effort assigned to operational work is estimated and moved "off the table" prior to cycle planning, to ensure that the necessary time to sustain our services is appropriately reserved and not accidentally over-allocated to new requests.
Before the initial Cycle Planning meeting for the upcoming work cycle, we engage in a joint exercise with our stakeholders to sort submitted project requests by relative priority and urgency to determine which projects IT will "pick up" for the cycle. The IT leads for those projects are then asked to create objectives for the cycle--succinct statements of the expected deliverables the project will aim to achieve by the end of the work cycle. 
During the Cycle Planning meeting itself, the staff chips necessary to achieve those objectives are allocated to projects, starting from the Library's highest priority projects (the strategic projects). After those are completed, we move on to the tactical projects. During this process, the issues of resource contention are visible and handled through discussions, and we note down the compromises made. Sometimes the decisions are deferred to be reviewed at the mid-cycle review.
Tools
We were using a variety of tools to accomplish the process of planning a cycle:
Google Sheets: to store the data captured during the review of the requests, and cycle review's data
Google Documents: to save comments and details about individual projects
Trello:  to provide a public dashboard for the request cards with monthly updates
All the above tools were siloed and there was no integration between the tools, except for manually comparing the data from one app to another. These tools also did not provide a comprehensive reporting system. We needed a single tool to store all the data and generate dashboards and reports to assess and review the cycle's progress. 
TRACC: A tool developed by Michigan to help with portfolio management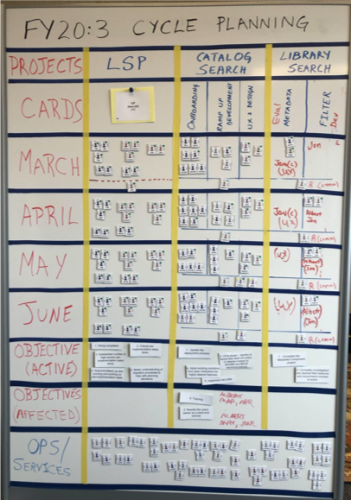 We started working on the idea of developing a custom tool for our needs since all the other available tools are oriented towards corporate organizations and we needed a light-weight tool to support our process. We went through a complete planning process first on whiteboards and paper, then developed the tool. Picture on the right is an example of a whiteboard from that process.
The custom tool, TRACC, is a comprehensive tool for request intake and portfolio management. It is an open source, Ruby on Rails application, built with Blacklight and Solr. A group of Library IT staff members worked with Library IT Coordinating Group as stakeholders in an agile way; a prototype was developed and shared with them. After some testing, more features were added, and the product improved with each testing. During the COVID time, we could see more value in this tool when all of us are working remotely and needing a collaborative tool to plan the next cycle. Our first test run was at the end of June 2020 when we used it for cycle review and then in July for planning the new cycle. All the screenshots displayed in this blog are generated by TRACC.
Some of the features that are of  importance to us are:
Cycle planning boards for assigning staff to projects and initiatives.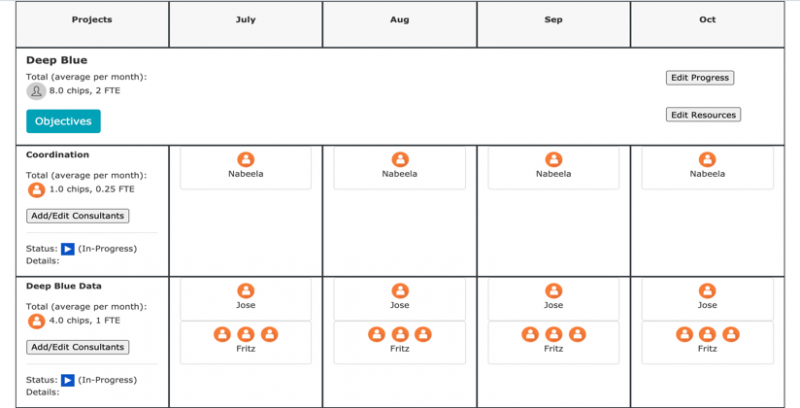 Several types of dashboards, some for public and some for LIT-only use, showing the project's status, progress, and resource allocation.

Cycle review data can be captured easily, which helps identify the need for making resource adjustments or any other blockers.

Allocate staff time to represent who is working on what projects.
Provides a way to add projects' objectives for each cycle and track progress.
Visual indicators for the projects' progress and status.
Road Ahead
The cycle planning process, initially designed by Maurice York, helps Library IT with keeping track of the staffing commitments, projects' progress and possible risks associated with individual projects. The TRACC tool development was led by Nabeela Jaffer. It helps Library IT virtually plan the cycle, visualize the projects' progress, generate dashboards to share with all Library staff  and insightful dashboards to be shared with the Executive Committee. 
Some of our next steps for process and tool improvements are:
Continuously evaluate and improve  the process by assessing the stakeholder satisfaction. We send surveys to project stakeholders and the cycle planning team.
The TRACC tool was developed to meet the needs of the U-M Library IT. It is an open source application, and can be adopted by other institutions with some minor tweaks.
We plan to assess TRACC usability and accessibility through usability studies
Acknowledgements
This work would not have been possible without the help and support of our U-M Library IT colleagues: Jose Blanco, Sebastien Korner, Gordon Leacock, Marian Leon, and John Weise, along with the Library IT Coordinating Group members.