Digital Content & Collections (DCC) relies on content and subject experts to bring us new digital collections. This has been a challenging year for all, and while digitization work itself was slower due to physical locations being closed or having limited access, we were able to proceed with creating several new digital collections over the year while experiencing increased usage of existing digital collections.
From July 2018 to Jun 2019, our digital collections received 67.9 million views. During the pandemic, when there was an increased need for digital resources, usage of the digital collections jumped to 86.5 million views (July 2019-Jun 2020) and 89 million views (July 2020-June 2021). This clearly demonstrates a need for digital resources, and we look forward to continuing our work to meet these needs.
Thank you to the many people, too numerous to reasonably list here, who are involved not just in the creation of these digital collections but in the continued maintenance of these and hundreds of other digital collections that reach users around the world to advance research and provide access to materials. 
Please contact me (havensl@umich.edu) if you have any questions about these new (created Jul 2020 - Jun 2020) or any other digital collections.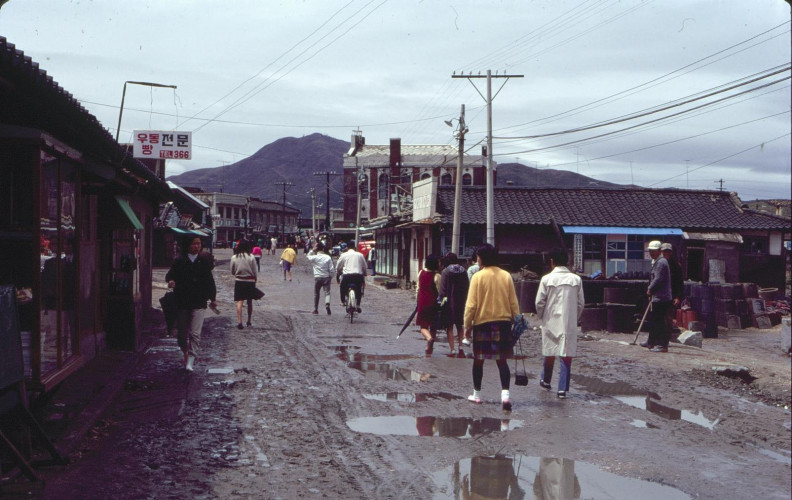 Street Scene after Rain, from the Seoul, 1969: Photographs by a Peace Corps Volunteer digital collection
Thanks to Dawn Lawson and others at the Asia Library. Dawn wrote more here about the background of the digital collection that the Asia Library helped to create this year.
Seoul 1969: Photographs by a Peace Corps Volunteer is a collection of more than 200 images digitized from slide photographs taken by Dr. Margaret Condon Taylor. Dr. Taylor, who received her PhD from the University of Michigan, captured everyday life in a city on the cusp of modernization. These photographs were "discovered" by U-M faculty in 2017 and initially seen in an exhibition at the Institute for the Humanities, for which twenty of the photographs were printed and framed.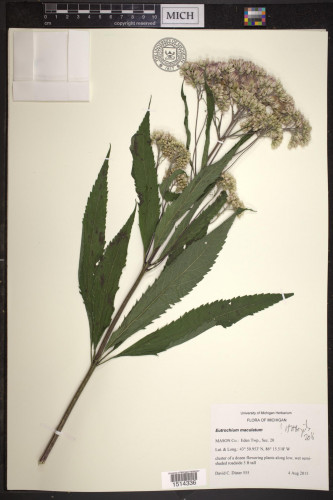 Eutrochium maculatum from the University of Michigan Herbarium Catalog Collection
This digital collection was initially created in 2019, and this past year it underwent substantial additions. It now contains over 1 million images.
The University of Michigan Herbarium (MICH) includes approximately 1.75 million specimens of vascular plants [ferns, gymnosperms, and flowering plants (~1.1 million)], algae (96,000), bryophytes (163,000), fungi (~280,000), and lichens (57,000). Herbarium MICH is known worldwide for the teaching and research conducted here in systematic botany and biodiversity studies and serves as a resource for the wider botanical community. The depth and breadth of our collection often enables us to provide assistance available nowhere else.
Organismal and genetic resource collections such as those in the Herbarium provide the best tangible record we have of life on Earth and constitute a crucial resource for use in research and education benefiting science, society, and the university. Working collaboratively within the highly regarded Department of Ecology & Evolutionary Biology, the Herbarium's goal is to make U-M a leading center for training and research in studies of the history, the change mechanisms, and the conservation of Earth's diverse life forms.
Support for digitizing and databasing specimens at MICH was provided by U-M funding as well as the Andrew W. Mellon Foundation (digitizing most type specimens), the Hanes Fund (digitizing Michigan ferns and bryophytes), and ten awards from the National Science Foundation.
Though not a new digital collection, the existing University of Michigan Alumnae Council Survey Responses, 1924 digital collection, created in partnership with the Bentley Historical Library, underwent substantial enhancements, especially relating to data cleanup work by Paul Schaffner and John Latta from the Text Creation Unit and interface improvements by Chris Powell in DIgital Content & Collections. The changes make the collection data easier for users to access and understand.
Seven Digital Collections with William L. Clements Library
Working closely with staff from the William L. Clements Library, especially Emiko Hastings, Curator of Books and Digital Projects Librarian, and Cheney Schopieray, Curator of Manuscripts, seven digital collections have been created.  Additional information about some of these digital collections is available through articles here and here posted on the Clements Library blog. Many Clements digital collections have had transcriptions added thanks to crowdsourcing efforts, organized by staff at the Clements, as noted here, here, and here.
1. United Sons of Salem Benevolent Society Minute Book, 1839-1867
The minute book of the United Sons of Salem Benevolent Society describes the business proceedings of a mid-19th century African American organization. A hybrid of an insurance agency and charitable operation, the United Sons bound together members of the African American community of Salem, New Jersey, providing a social network, a financial safety net, and support in the event of illness or death.
2. James Sterling Letter Book, 1761-1765
The James Sterling letter book contains 175 letters written by Sterling, a fur trader, while at Fort Detroit. His letters provide a picture of the fur trade and the consumer needs of Native Americans, French civilians, and the British military, accounts of events during Pontiac's War, as well as the day-to-day concerns of a prominent trader at Fort Detroit.
3. Thomas Leyland Company Account Books, 1789-1793
The Thomas Leyland Company account books are two volumes of records for the slave ships Hannah (1789-90) and Jenny (1792-1793), traveling from Liverpool to Africa, then across the Atlantic to Jamaica and other West Indian Islands. The books record the sales in each port, including enslaved Africans, fabric, and sugar, and contain details on seamen's wages and instructions to the captain for the treatment of enslaved persons.
4. Harriet DeGarmo Fuller Papers, 1852-1857
The Harriet DeGarmo Fuller papers consist of four bound volumes of records and eight miscellaneous receipts of the Michigan Anti-Slavery Society, kept between 1852 and 1857, when Harriet DeGarmo Fuller was a member of the executive committee of the Society. The Harriet DeGarmo Fuller Papers form an important and detailed picture of the formation and early activity of the Michigan Anti-Slavery Society, with a record of their official resolutions, activities and expenditures. The Fuller Papers provide unique insight into the inner workings of one of the most important state-level Garrisonian antislavery societies. 
5. Great Britain Indian Department Collection, 1753-1795
The Great Britain Indian Department Collection, 1753-1795, documents British interactions with Native Americans in New York, Pennsylvania, and Ohio, with some material relating to South Carolina, Michigan, and Virginia. Official documents include passes for Native American travelers, speeches to and from Native American groups, copies of treaties, and reports and correspondence relative to diplomacy, peace efforts, and military affairs. Materials relay information on boundary disputes, prisoner exchanges, crimes committed against both American settlers and Native Americans, and Native American distress over land infringements.
Of particular note are the Albany Commissioners of Indian Affairs' reports from June 1753 to May 1755. These include copies of correspondence, reports of meetings with Native American groups, and remarks on fort construction, prisoner exchange, rivalries with the French, religious evangelization, and diplomacy.
6. Jacob Aemilius Irving Letterbooks, 1809-1816
The Irving collection consists of three volumes of outgoing correspondence written from Liverpool, England, and Jamaica, 1809-1816. These volumes are a resource for understanding the mentality of a Jamaican sugar planter during the years following the cessation of the British slave trade. In addition to important regular commentary on his business network and debts, these volumes contain discussion of the trade of enslaved persons, their value to the estates, and their status as currency in the Jamaican economy.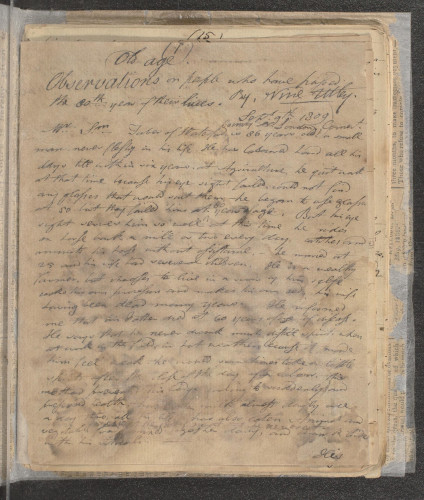 7. Vine Utley Manuscript, "Observations on Old People 80 Years of Age", 1809-1818, 1827, Duane Norman Diedrich Collection
Dr. Vine Utley compiled most of his "Observations on Old People 80 Years of Age" (87 pages) while interviewing octogenarians and older individuals in New London County, Connecticut, from September 9, 1809-June 17, 1818; one entry is dated April 15, 1827. Utley recorded biographical information about each person he interviewed, including their name, age, hometown or place of residence, marital status, occupation, previous illnesses and medical treatments, number of children, and sometimes their date of death. He commented on interviewees' habits and diets, particularly with regard to alcohol and tobacco, and on their parents' longevity.
Utley wrote about physical health and mental acuity, and noted some trends amongst his subjects, such as octogenarians' tendency to have few, if any, remaining teeth (p. 25). He interviewed men and women from Waterford, Lyme, and New London, Connecticut, including David Harris, a native of Paris who had been held captive by Native Americans (pp. 22-25); E. Jeffry, a Native American woman (pp. 30-33); Celia, an enslaved woman who had been born in Africa (pp. 60-62); and John Utley, his father (pp. 81-84). The volume's cover is a repurposed section of The Witness (June 25, 1806), a newspaper published in Litchfield, Connecticut.