Posts tagged with Artists' Books in Blog Da Vinci's Notes
October 4, 2017
•
Letterpress is hypnotic, addictive, and a little messy. Master wood engraver and letterpress expert Jim Horton joins the Book Arts Studio in the Duderstadt Center each Friday to run Letterpress Open Studio from 1-4.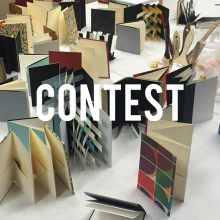 November 11, 2015
•
Since March of this year, I've been running a personal Instagram account sharing new books and events and asking for input on artists' books purchases. The account, @stampscollecting, is going to have an Instagram contest this November.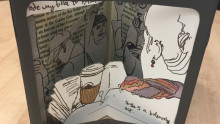 October 1, 2015
•
Fall brings new things to the Artists' Books collection! Several new books have arrived, including two brand-new titles, both from 23 Sandy Gallery; Market to Market by Laura V. Marsh, and KAMO by Kyoko Matsunaga.