We are pleased to announce the opening of a new online exhibit: Written Culture of Christian Egypt: Coptic Manuscripts from the University of Michigan Collection. This online display is a virtual record of an actual physical display that took place at the Audubon Room of the University of Michigan Library between November 12,  2018 and February 17, 2019. Curated by Alin Suciu and Frank Feder (Göttingen Academy of Sciences and Humanities, Germany), and with the collaboration of Pablo Alvarez (Special Collections Research Center), the display includes highlights from our collections of Coptic manuscript fragments and codices (bound books) held at the Papyrology Collection and the Special Collections Research Center. In short, these extant manuscripts, even in their  fragmentary form, are extraordinary witnesses of the transmission of the literary heritage of Egyptian Christians from the 6th century until its decline in the 12th and 13th centuries, when it was completely superseded by Arab culture.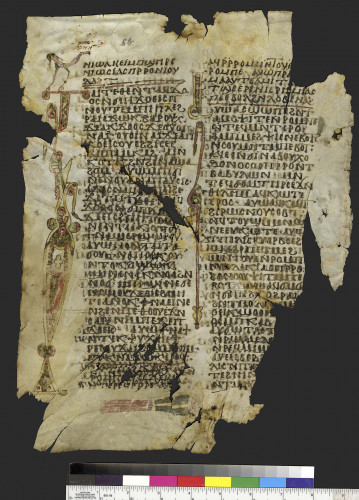 Mich. Ms. 158.5
Book of Jeremiah. Sahidic Dialect. Verso. Parchment. White Monastery, Sohag (Egypt). Fragments of the same manuscript are kept in London, Manchester, Paris, and Vienna. ca. 10th century. Parchment; 36.5 x 27.8 cm. The images of birds and fish are fairly common in these Coptic manuscripts as exemplified in the decoration accompanying the initial "T" on the left margin of this page
With the exception of two codices written on parchment, Mich. Ms. 166 and 167, the artifacts on display are all fragments of various sizes that were once part of different codices with their leaves made of papyrus or parchment (animal skin). Aside from two bilingual fragments, written in Coptic and Greek, the rest of the manuscripts in this exhibit are written in the Coptic language, which represents the last stage of the Egyptian language, and whose alphabet was mostly adapted from the Greek alphabet in the 2nd century BCE. In brief, different Coptic dialects (Akhmimic, Lycopolitan, Mesokemic, Fayyumic, Sahidic, and Bohairic) were used by these early Christian communities not only for ordinary worship but also for the written transmission of the Bible and other religious works.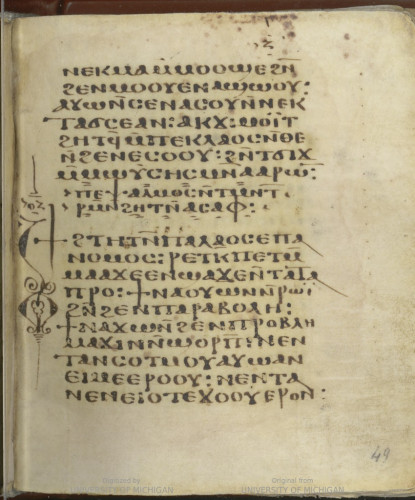 Mich. Ms. 167
49 recto from a codex containing Psalms 51-150 (the first part, with Psalms 1-50 and the beginning of the Gospel of Matthew is kept in the Chester Beatty Library, Dublin, as Copt. Ms. 815) ca. 7th century. 12 x 10.2 cm.
The exhibit also includes  facsimile models of the bindings of two early Coptic codices, Mich. Ms. 166 and 167, from the Julia Miller Collection of Bookbinding Models. The display ends with a recording of the two lectures opening the exhibition,  delivered by the curators, Frank Feder and Alin Suciu.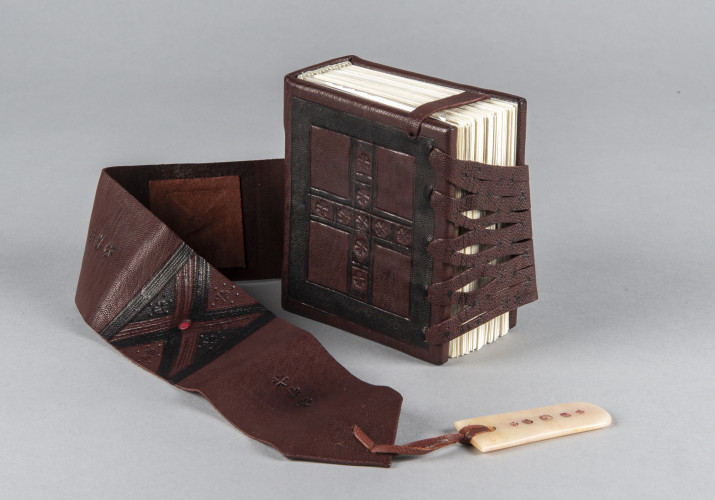 Facsimile Model of the binding and text block of Mich. Ms. 166, a seventh-century codex containing a miscellany of biblical and ascetic texts. 9.7 x 8.5 cm.
Tags: