This Wednesday's watermark comes to us once again from the Islamic Manuscripts Collection - one of the papers in Isl. Ms. 569 to be exact. This manuscript lacks a date of transcription, but a date in one of the Turkish notes at the close provides a rough terminus ante quem of 1601. The entire transcript is in the same hand. 
The watermark features a pivot scissors motif drawn in outline with wide angled blades and finger loops not fully closed.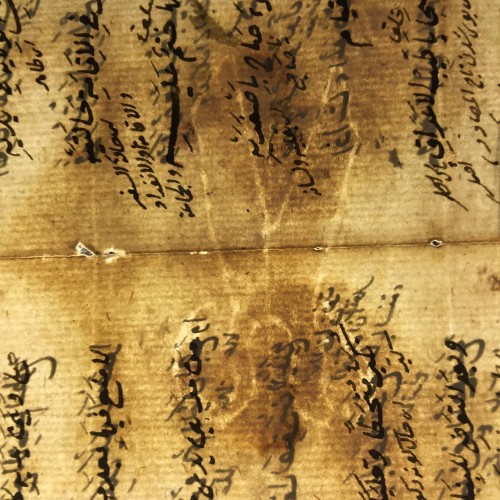 Scissors watermark across the fold in Isl. Ms. 569 p.10/11
An especially popular motif among 14th and 15th century Italian papermakers, [1] a great multitude of scissors watermarks are attested, mainly the familiar pivot form seen in our mark.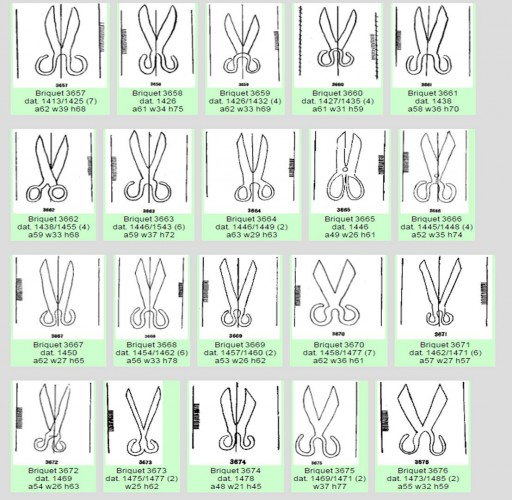 Sampling of ciseaux (scissors) watermarks
from Briquet Online [2] 
The spring form without handles / finger holds is also attested and tends to be greater in size. It is often designated "shears" to distinguish it from the pivot form.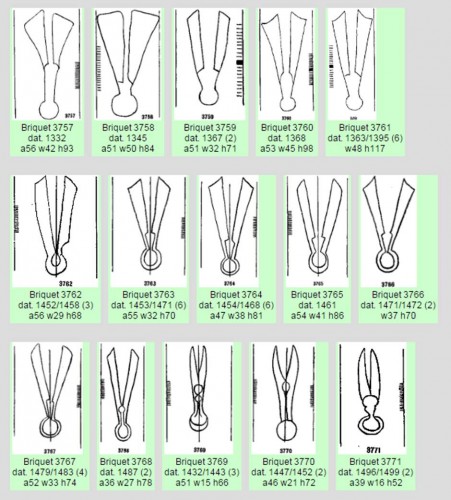 Sampling of ciseaux de tondeur (shears) watermarks
from Briquet Online [3]
Briquet lists more than 100 pivot scissors marks and Piccard lists more than 200. The scissors appear in different sizes with slightly different shapes for the blades and finger holds which may be open or fully closed loops. They may be drawn in single line or outline and may appear with or without an additional motif, even inscribed within a circle. 
Even so, most scissors marks are quite similar in form and difficult to distinguish without careful attention to dimensions and placement with respect to the chain lines. It is therefore particularly important to take measurements. Our mark measures roughly 65 mm. in height and 33 mm. in width. A chain line runs through the center of the mark and the distance spanned by the chain lines on either side is roughly 58 mm.
Browsing watermark references by the dimensions provided for each mark helps locate similar marks. The dates of circulation for those marks allow us to then suggest a tentative dating for manuscripts copied on similarly watermarked paper. The Piccard online database [4] even supports search on size within a specified range or tolerance, typically 3-5 mm.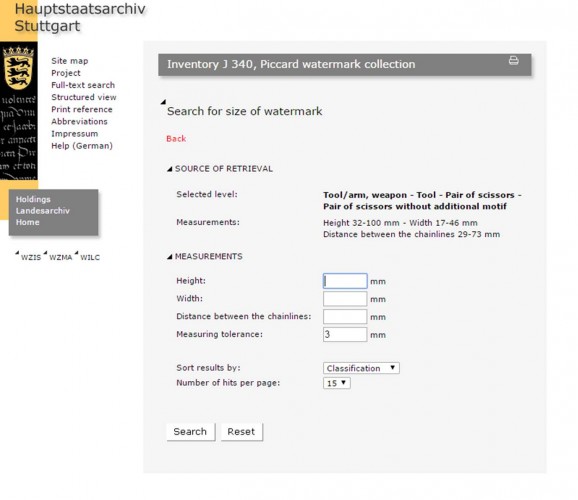 Interface for searching the Piccard Watermark Collection database by watermark size.
A search in the Piccard database returns a few marks similar to ours in size. Number 122460, dated to 1449, seems to bear the greatest resemblance to our mark.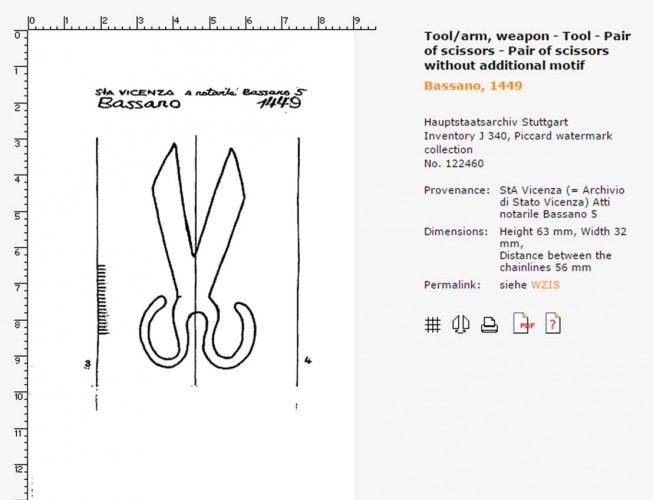 Piccard no. 122460, Bassano 1449
Briquet mark 3685 also bears resemblance to our mark in size and form. It is dated to 1459 and is part of a group of similar marks ranging in date from 1457 to 1472.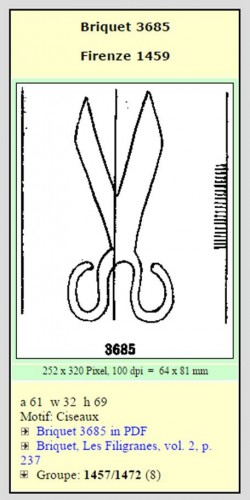 Briquet 3685, Firenze 1459
While these marks are quite similar to our mark in form and dimension, the date range they suggest is still pretty broad. Nevertheless, they allow us to propose a dating of mid to late 15th century for our manuscript, consistent with the hand and other features. 
Once again, watermarks allow us to cut to the chase on approximate dating for a manuscript!
---
[1] See Briquet, Les Filigranes, v.II, p.235 (ed. of 1907 available online via the HathiTrust Digital Library)
[2] See under "Ciseaux" on Briquet Online, database accessible at http://www.ksbm.oeaw.ac.at/_scripts/php/BR.php
[3] Also under "Ciseaux" >> "Ciseaux de tondeur" on Briquet Online.
[4] Piccard Watermark Collection (Wasserzeichensammlung Piccard), online database accessible at
http://www.piccard-online.de/einfueh.php?sprache=en