Watermark Wednesdays are back! This Wednesday's watermark comes to us once again from the Islamic Manuscripts Collection - one of the papers in Isl. Ms. 587 to be exact. 
The watermark features a Paschal Lamb motif in a four-lobed circle or quatrefoil. The lamb holds a pole with cross and banner as is typical for the symbolic depiction of the Paschal Lamb, also known as Agnus Dei (i.e. "Lamb of God"). 
The Paschal Lamb appears in numerous watermarks, both alone and within a circle or other shape. The Piccard Watermark Collection [1] includes several examples. A couple of them are similar to our mark.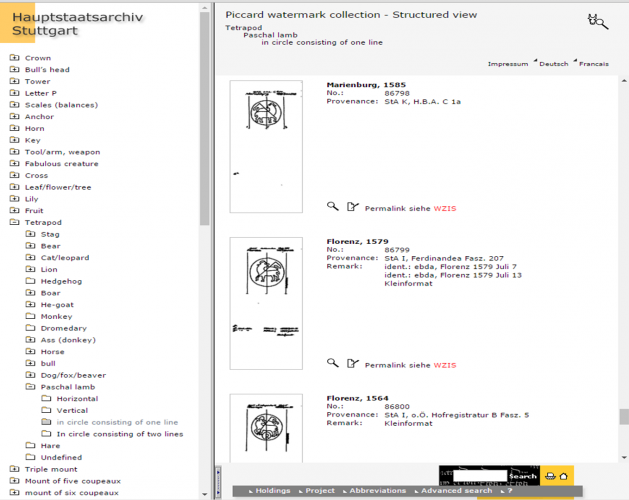 Paschal Lamb watermarks in the Piccard Watermark Collection
Piccard No. 86802 resembles our mark in form and measurement and is dated to 1662, within one year of the date of transcription of our manuscript.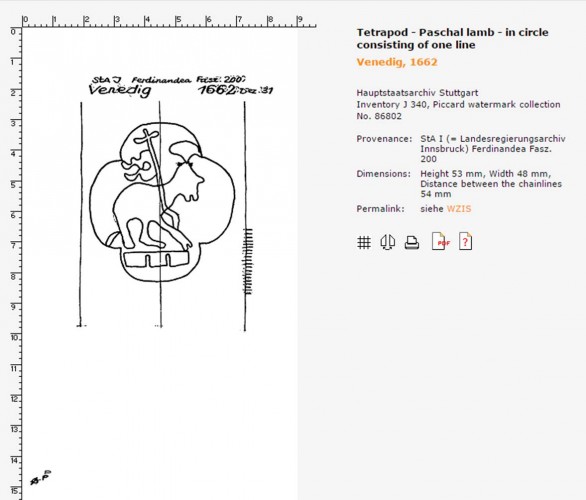 Piccard no. 86802, Venice 1662
Piccard No. 86801 also resembles our mark but is dated to 1625. It includes a countermark of initials "G A" under trefoil.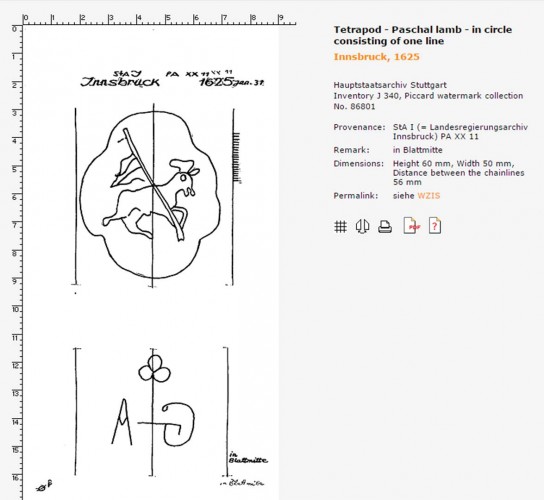 Piccard watermark no. 86801, Innsbruck 1625
This mark and its countermark are remarkably similar to a Paschal Lamb mark appearing in another manuscript from the collection, Isl. Ms. 148. This manuscript was copied in Istanbul in 1665.
As with other featured watermarks we've seen, the mark crosses the fold of the various bifolia in which it appears and so requires a careful look to the gutter.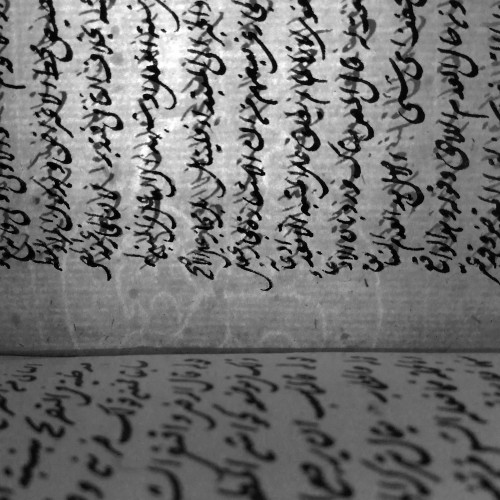 Upper portion of Paschal Lamb watermark visible at the gutter in p.208, Isl. Ms. 148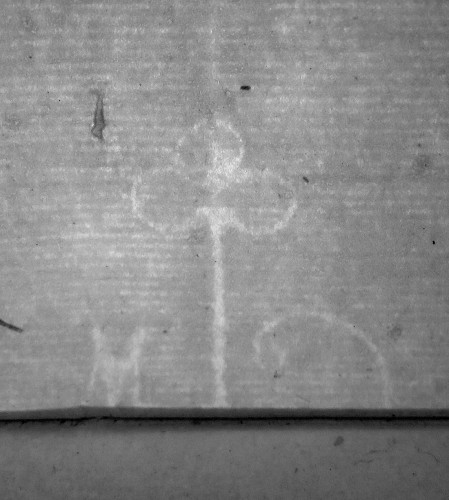 Countermark visible at the gutter in p.332, Isl. Ms. 148
A few other manuscripts from our Islamic Manuscripts Collection also include papers featuring Paschal Lamb watermarks. Virtually all were produced in the lands of the former Ottoman Empire, and as with other Ottoman documents on Paschal Lamb watermarked papers [2], most date to the mid-late 17th century. 
This prevelance for the circulation of Paschal Lamb watermarked paper among copyists in the 17th century Ottoman lands [3] allows us to suggest a tentative dating and provenance for otherwise undated manuscripts with ties to Ottoman areas, or even added or replacement sections copied on such paper. The added table of contents at the opening of Isl. Ms. 570 is an example.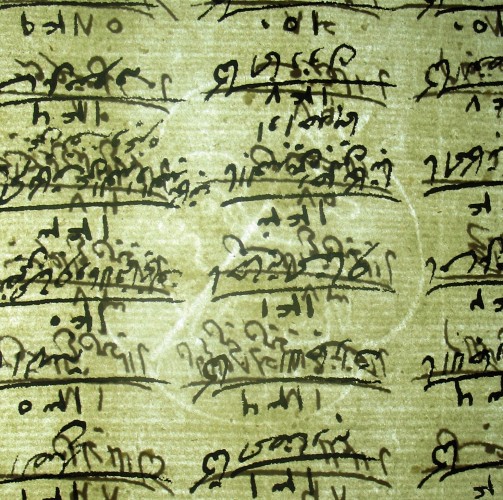 Paschal Lamb watermark in added leaf carrying table of contents in Isl. Ms. 570 (p.6)
While the bulk of this manuscript is on a non-European laid paper with grouped chain lines and no watermark, the opening section carrying the table of contents is on a Paschal Lamb watermarked paper similar to the others we have seen. The Anatolian hand used to transcribe the section and a former owner's statement in the name of a mufti of Antep (Gaziantep) appearing elsewhere in the manuscript help firm the tie to an Ottoman scribal culture. Given what's been documented of the use of this paper in Ottoman manuscripts, the watermarked paper thus allows us to propose a tentative dating of mid-late 17th century for the addition of this section.
Another Watermark Wednesday, another watermark capable of illuminating a manuscript's historical context! 
---
[1] Piccard Watermark Collection (Wasserzeichensammlung Piccard), online database at:
http://www.piccard-online.de/einfueh.php?sprache=en
[2] Cf. "Agneau pascal" marks nos.1-24 / 1635-1670 in Asparouh Velkov, Les Filigranes dans les documents Ottomans: divers types d'images (Sofia: Éditions "Texte - A. Trayanov", 2005).
[3] Especially the 1660s it would seem, in light of the examples highlighted here. Beate Wiesmüller has also observed Paschal Lamb watermarked paper in at least two manuscripts from the Refaiya Library now at Leipzig, including one in quatrefoil like our marks and dated to 1663-1664 (Vollers 770). Cf. p.465-466 in Beate Wiesmüller, "Die Wasserzeichen der Refaiya Bibliothek," In Writings and Writing : Investigations in Islamic Text and Script in Honour of Dr. Januarius Justus Witkam, Ed. Robert M. Kerr and Thomas Milo (Cambridge: Archetype, 2013): 449-483.