This Wednesday's watermark comes to us once again from the Islamic Manuscripts Collection - one of the papers in Isl. Ms. 147 to be exact. This manuscript lacks a date of transcription, but a note on the recto of the opening leaf provides a rough terminus ante quem or "limit (in this case, date) before which" of 1431. The entire transcript is in the same hand. 
The watermark features a capital R motif in two lines. The mark crosses the fold of the various bifolia [1] in which it appears and so requires a careful look to the gutter in order to be seen.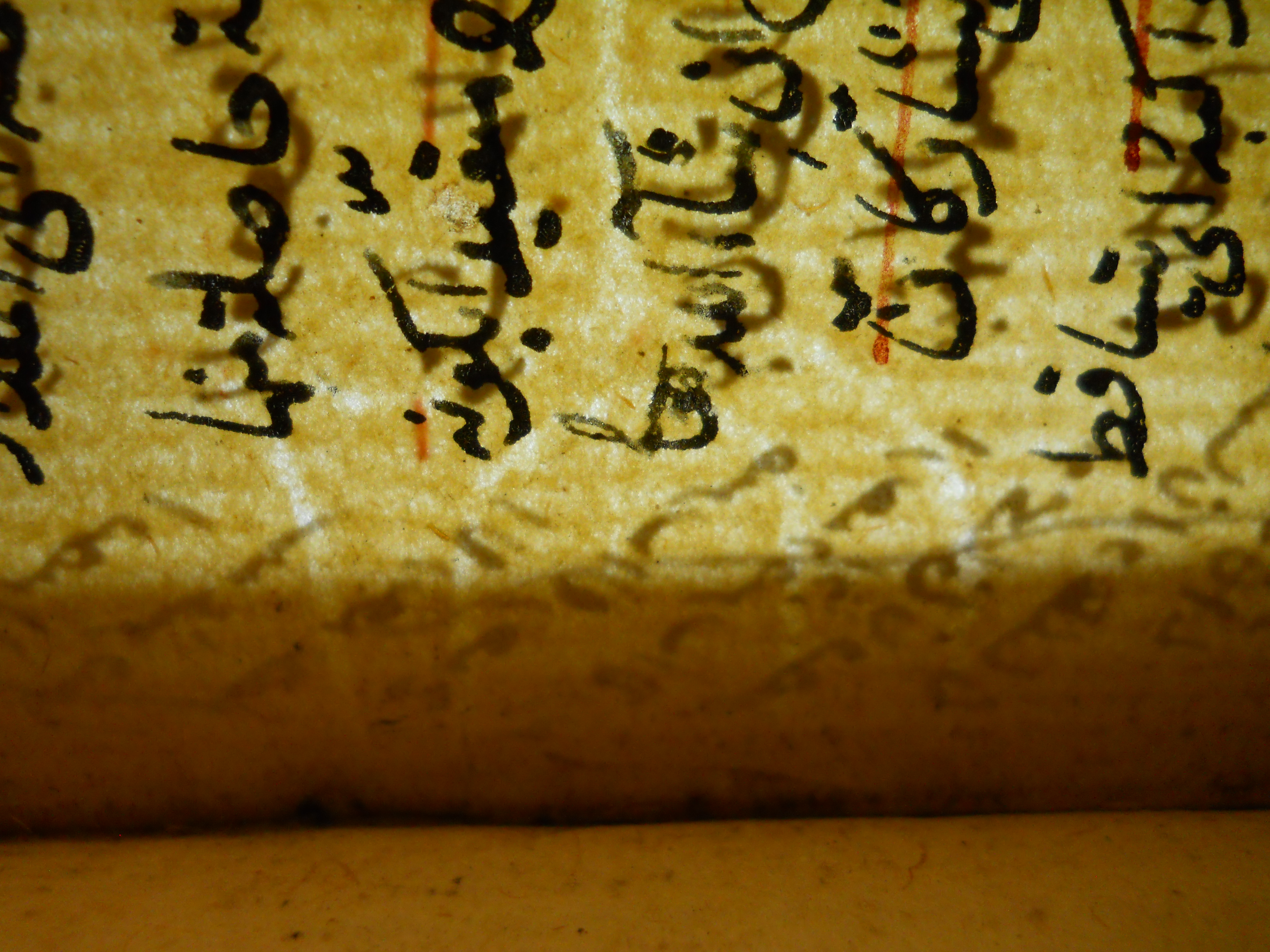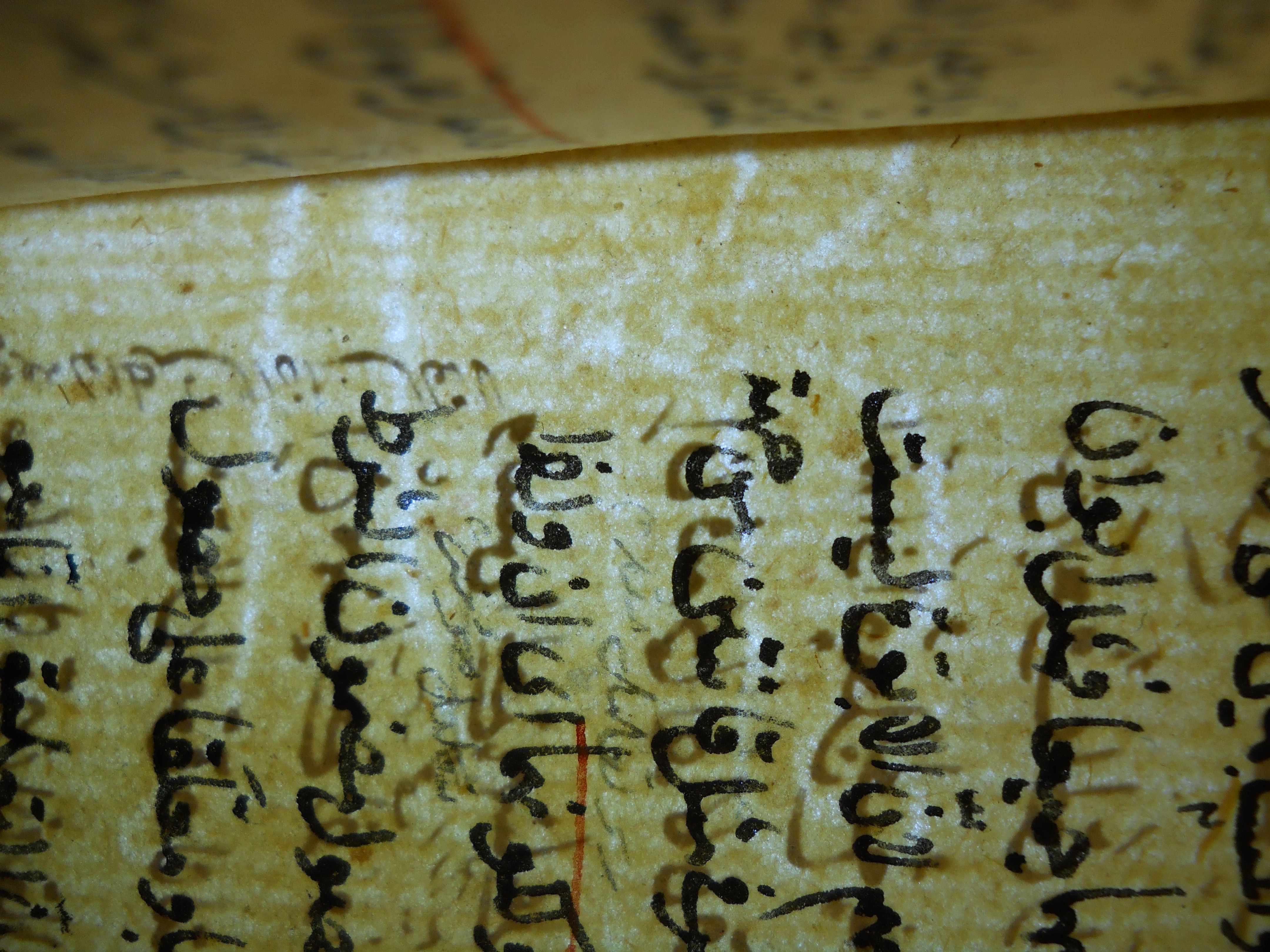 Upper and lower parts of capital letter R visible near gutter in leaves of Isl. Ms. 147, p.210 (upper) and p.94 (lower) 
Several French and Italian papermakers employed the capital letter R motif for their watermarks. [2] The R could be in a single or double line (partially or fully) and with or without a cross.  Our mark is fully in a double line but seems to have no cross above. Several marks listed by Briquet and Piccard resemble it.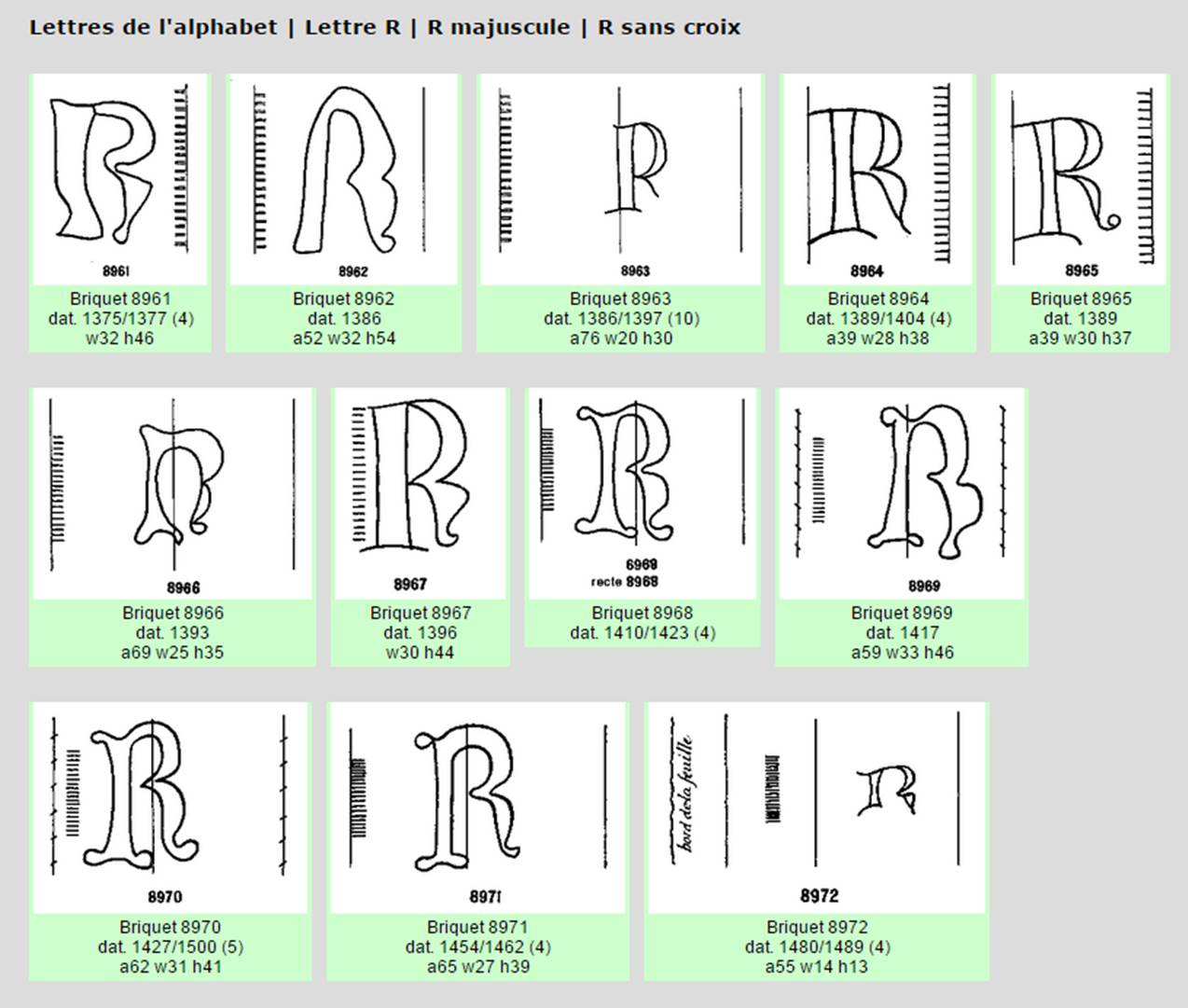 Watermarks of the capital letter R without cross, mainly in double line (from Briquet Online [3])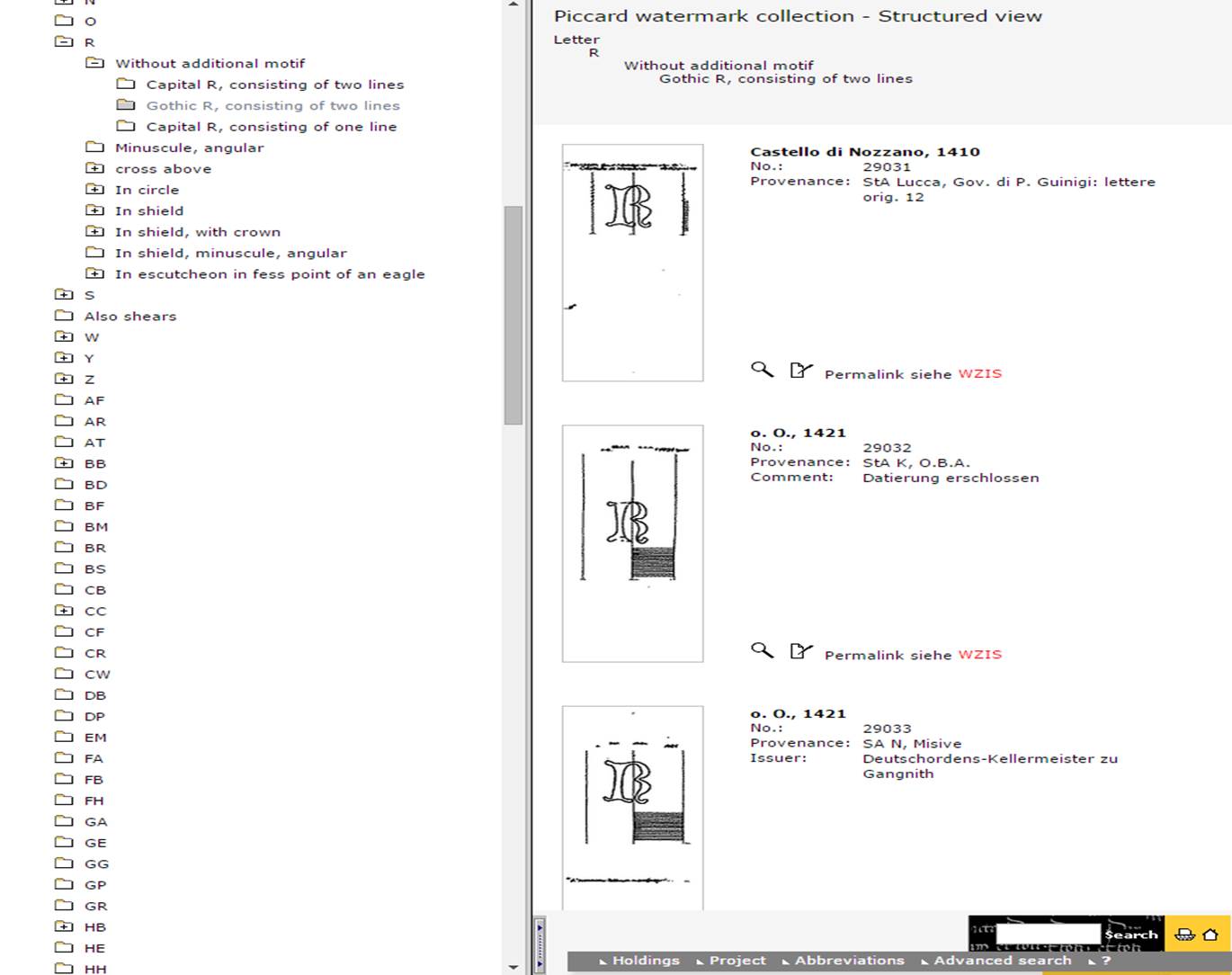 Various marks of "Gothic R in two lines" from the Piccard Watermark Collection [4]
The datings for these similar marks further reinforce an early 15th century dating for Isl. Ms. 147. Careful measurements could help narrow the set of similar marks and the date range.  Unfortunately such measurement is difficult in this case owing to the position of the mark in our manuscript, but a rough estimate of 45-50 mm for the height and 59-60 mm for the distance spanned across three chain lines (watermark at center) is possible. This narrows the Briquet and Piccard selection down to two marks, one dated to 1416 and the other to 1417.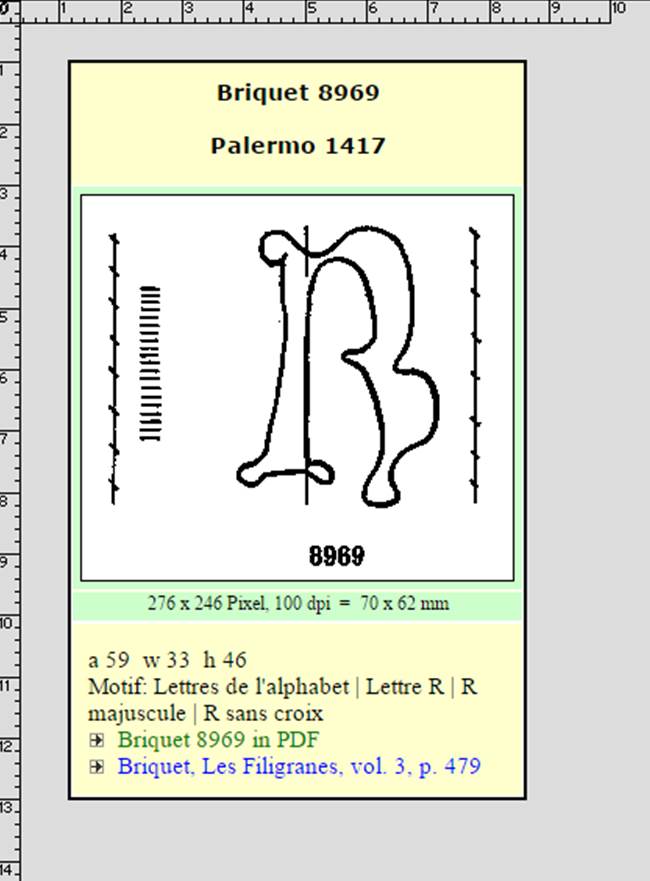 Briquet 8969, Palermo 1417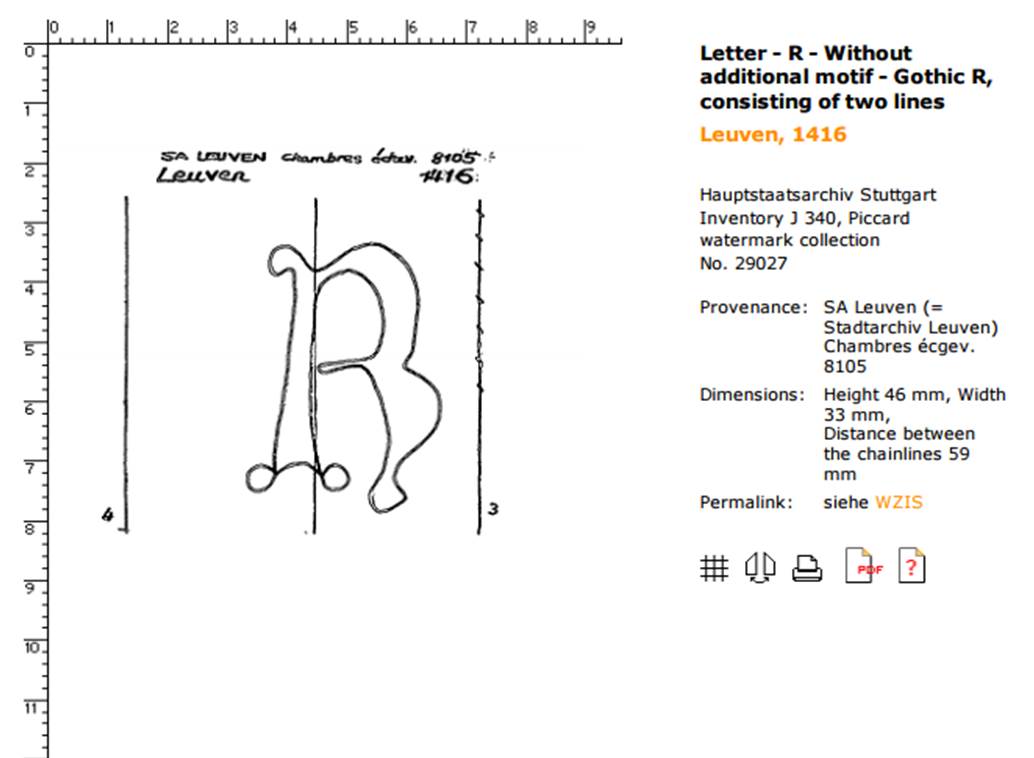 Piccard no.29027, Leuven 1416
While these marks are indeed similar they are still not exact matches. Our mark is more centered on the medial chain line, and includes a more pronounced flourish on the rightward stroke of the R. The leftward vertical stroke is also thicker with a more pronounced curve at head and tail. A couple of other Briquet and Piccard marks [5] are slightly more similar in shape and placement, but not in height. Most of them date to 1410.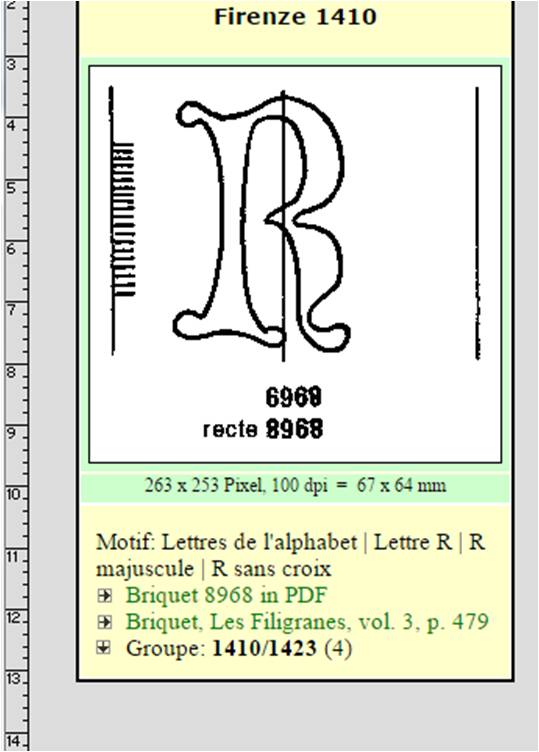 Briquet 8968, Florence 1410 (also Lucca 1414 and Pistoia 1414-1423, cf. Briquet v.III, p.479)
Nevertheless, these marks seem to be the nearest matches. At least they allow us to suggest a possible more proximate dating for the early 15th century prior to 1431, perhaps ca. 1410-17. 
Thus, this manuscript is yet another of the earliest manuscripts in our Islamic Manuscripts Collection copied at least in part on watermarked paper, [6] and R has helped mark the spot! 
---
[1] Plural of bifolium.
[2] See Briquet, Les Filigranes, v.III, p.476 ff. (ed. of 1907 available online via the HathiTrust Digital Library)
[3] Briquet Online, database accessible at: http://www.ksbm.oeaw.ac.at/_scripts/php/BR.php
[4] Piccard Watermark Collection (Wasserzeichensammlung Piccard), online database at:
http://www.piccard-online.de/einfueh.php?sprache=en
[5] cf. Briquet 8968 and Piccard nos. 29028 (Castello di Nozzano 1410), 29029 ([Ferrara] 1410), and 29031 (Castello di Nozzano 1410). 
[6] In addition to the watermarked paper, a few pages of the transcript (all in the same hand) are on a non-European, non-watermarked paper, likely of Arab production with chain lines in groups of three. See the catalogue record for further details.