Newly added to the Jewish Salonica Postcard Collection, this card depicts a crowd of men in front of a narrow two-store building in Salonica (Thessaloniki), Greece, around 1917. The picture was taken by French photographer Henri Manuel (1874–1947), who served as the official photographer of the French government from 1914 to 1944. 
The building was located on Salonica's Promenade and stood adjacent to the Jewish Nouveau Club — an organization established after 1908 by dissidents of another Jewish club, the Club des Intimes (founded originally in 1873 as the Cercle des Intimes, Salonica's first modern Jewish club).
The captions on the back of the card point out, in Italian, French, and English, that the building housed a bakery (and that no women were seen among the men standing in front of it!). Indeed, that bakery was the modern Electrically Powered Bakery, located on the ground floor of the building — as indicated by the red and white sign, in Greek, above the entrance.  
Above the sign in Greek, there is a Ladino (Jewish-Spanish) sign in Hebrew script with the words ריסטוראן ב'ארסאנו משה (Resṭoran Varsano Mosheh). That was the kosher restaurant Varsano and Mosse, located on the first floor of the building. 
The kosher restaurant and its Ladino sign testify not only to the ubiquitous presence of the Jewish community in Salonica at that time, but also to the imprint Sephardic Jews left on the linguistic landscape of the famous Balkan town. In fact, several historical postcards from Salonica depicted establishments that displayed Ladino signs.     
Inscribed in French, the card is apparently dated May 23, 1918. It was purchased for the University of Michigan Library Special Collections Research Center with funds from Bruce and Ileane Thal.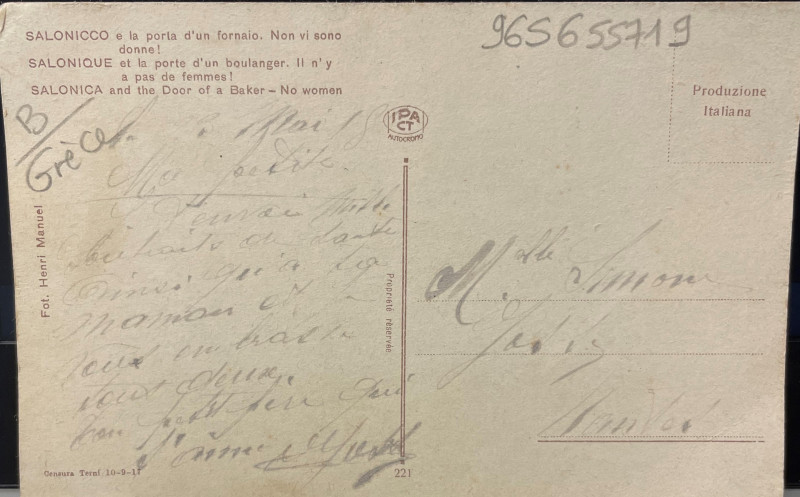 References:
Alexander, Tamar , Gila Hadar, and Shalom Sabar, "El oio ve, la alma desea: Jewish Postcards from Salonika", in Jerusalem Studies in Jewish Folklore 27 (2011), 183-229" (in Hebrew) — see specifically page 197. 
Costis Copsidas, The Jews of Thessaloniki through the postcards, 1886-1917. Thessalonikē: K. Kopsidas, 1992.
Megas, Yannis. Souvenir: Images of the Jewish Community: Salonika 1897-1917. Athenas, 1993 — see specifically page 96.
Uziel, Yosef, "Moadonim (klubim) ve-agudot le-sugehem [Types of clubs and associations]", in Saloniki: ir va-em be-Yisrael = Salonique: Ville-Mère en Israël. Jerusalem and Tel Aviv, 1967, 127-130. (in Hebrew)
Tags: