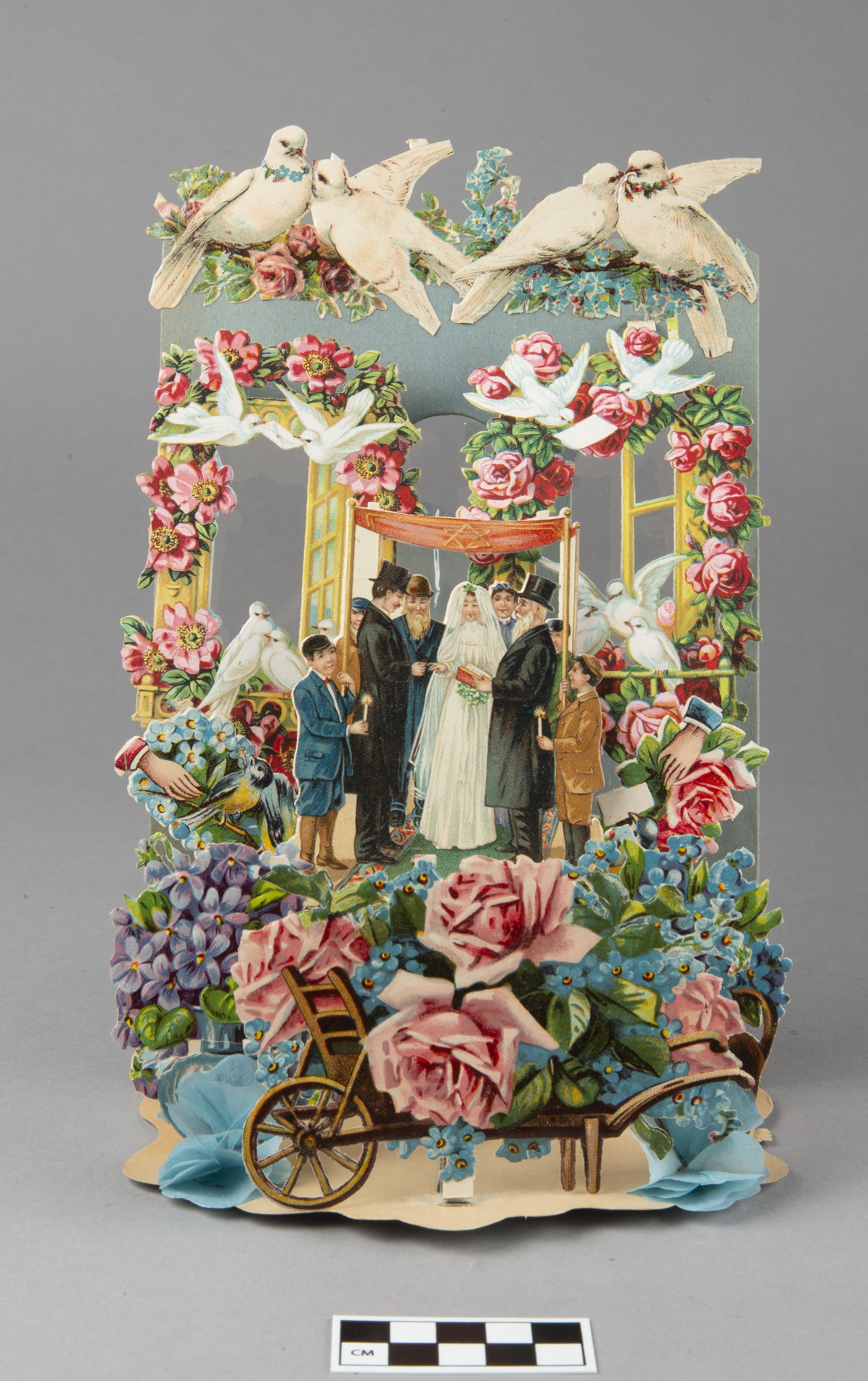 This blog post is dedicated to our esteemed library donor Constance (Connie) Harris (1926-2023), whose commitment to supporting the mission of our library enabled us to significantly enhance and expand our Jewish Studies collections. 
The Jewish year 5784 will begin this week, prompting people to send greeting cards to their loved ones. Indeed, Jewish New Year greeting cards, also known as shanah tovah (שנה טובה) cards, became increasingly popular in the early 20th century.
Printed in Germany between 1910-1919 for the American Jewish market, the card featured above is one of the eighteen shanah tovah pop-up cards recently repaired, photographed, and uploaded to the Jewish Heritage Collection Digital Archive — thank you Marieka Kaye, Amy Crist, Larry Wentzel, Randal Stegmeyer, and Robert McIntyre for the collaboration!
The card depicts a Jewish wedding scene under a ḥupah (wedding canopy). The wishes of a happy new year are printed in English and Hebrew on the front of the card and can be seen when it is folded. 
The card below belongs to the same series of pop-up cards and also depicts a Jewish wedding scene. In addition, it depicts a woman wearing a sash that says בת ציון (Daughter of Zion). She is waving a banner that features Stars of David with the word ציון (Zion) in them and wishes of a happy New Year in English and Hebrew.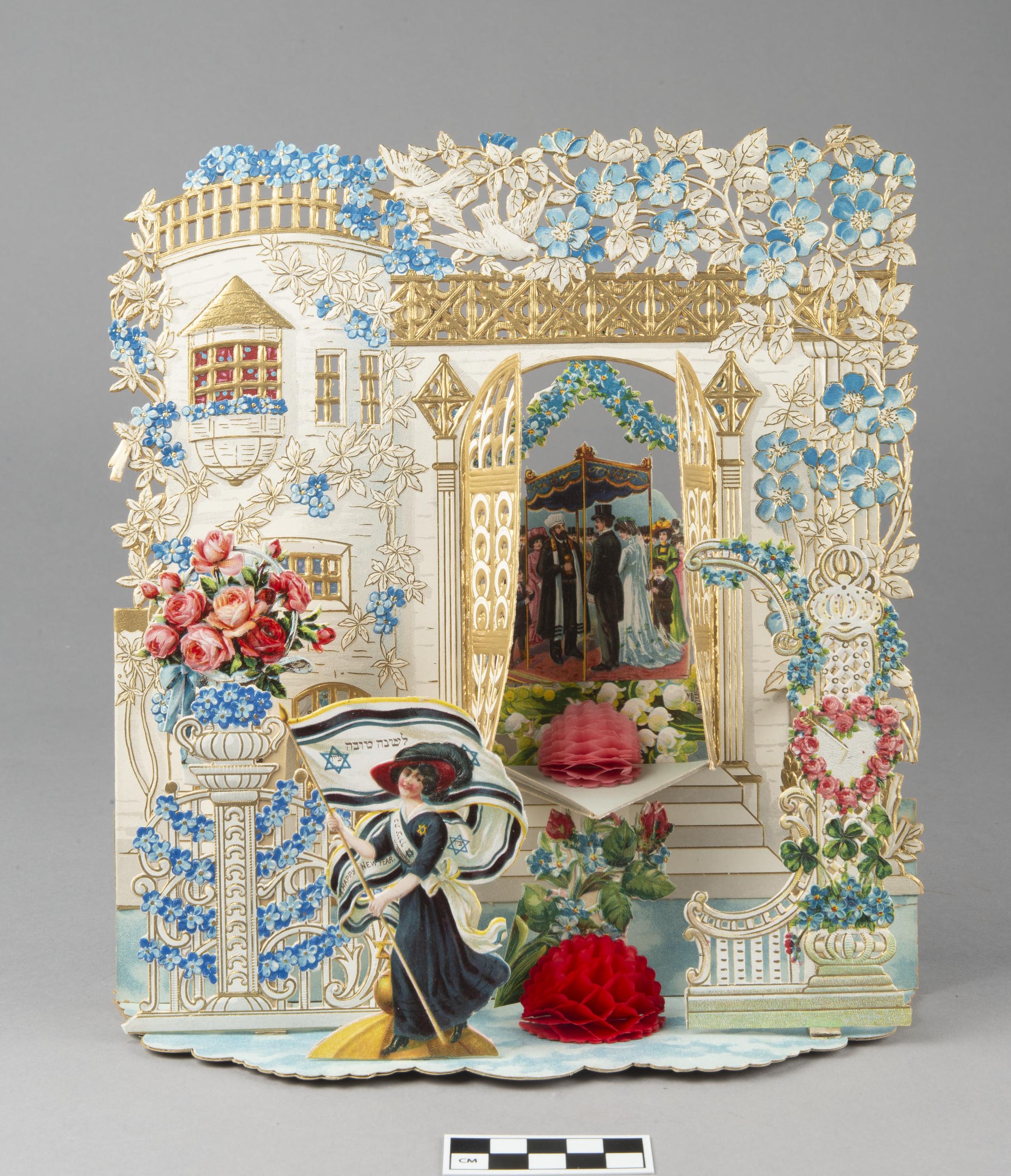 The emblematic Daughter of Zion also appears in the pop-up card below. In this instance, she is standing on a platform with a flowered gate. On the background is a panorama of Tel Aviv — a city founded in 1909 as a small settlement on the sand dunes north of Jaffa. The card includes a decorated frame with the Yiddish sentence פאנוראמא פון תל-אביב (Panorama of Tel Aviv).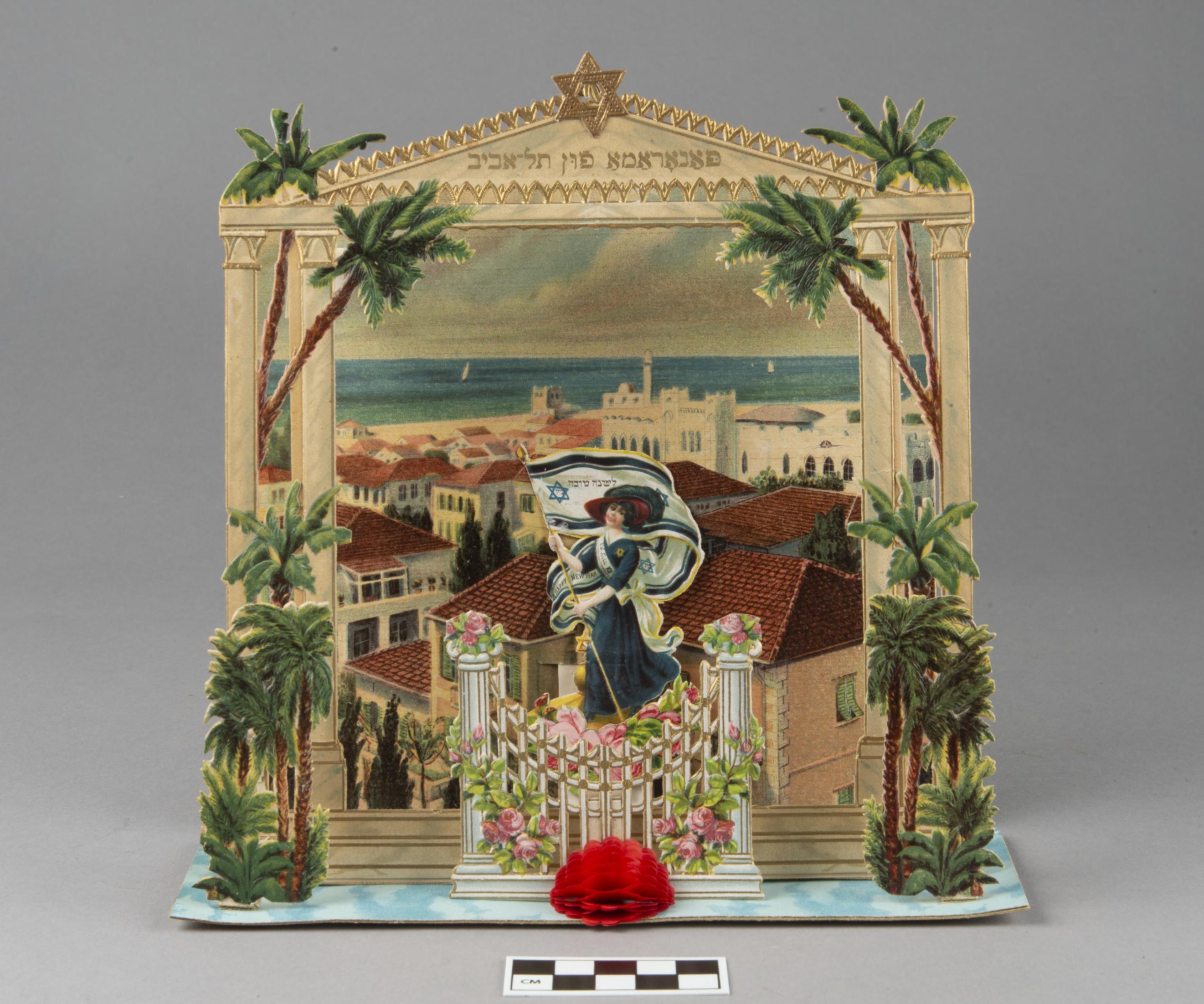 View pictures of the other shanah tovah pop-up cards from the U-M Library Jewish Heritage Collection.  
References:  
Sarfati, Rachel (editor). Each year anew: a century of Shanah Tovah cards. Yerushalayim: Muze'on Yiśra'el, 2015
Shana tovas: the history of greeting cards for the Jewish new year. Ḥefah: Muzeʻone Ḥefah, 2011.