There's a moment of suspense every time I remove the lid of an archival box. What will I find inside? Folders of nineteenth-century correspondences in French? A civil war diary with a bullet hole in its leather cover? A pile of pamphlets about applying makeup for transwomen? A random letter signed by J.R.R. Tolkien? (Yes, I really did find one!)  After five weeks in the archives unit of the Special Collections Library, I have come to realize that I never really know what I will find housed in the gray archival boxes. 
As a Mellon Public Humanities fellow, I'm spending my summer assessing the more-or-less "unprocessed" collections in the UM Special Collections Library. Because of my deep interest in material cultures—I'm a PhD student of medieval literature—the variety and richness of the UM Special Collections captivates me. And because a lot of what I encounter is unprocessed, uncatalogued, even, sometimes, virtually unknown to those outside of the Special Collections staff, I've decided to list a few items that I think are worth a look. Below you will find short explanations of several of the many collections I have encountered while wandering the archives.
WAR HISTORY:
Henry Allen Buck Papers: During his service in the American Civil War, Henry Allen Buck, a Michigan alum, wrote diligently to his mother and sister. Those letters now reside in Special Collections. In detail Buck describes his experience as a soldier: where he was marching, what he was eating, where the fighting was taking place. The materials date from 1858-1863; Buck was shot and killed in 1863. Along with the letters, the box holds a bound transcript of all of the letters, a map, pieces of Buck's uniform, stamps, and a soldier's pocket pamphlet. The collection also contains two diaries. The first provides even more detail about Buck's time in the war. The second diary, far more tattered than the first, holds, perhaps, even greater significance. In a letter to his sister Buck explains how this diary saved his life by stopping a bullet. When I delicately lifted this diary out of its box, I could see the rip in the leather and the frayed edges of paper where the bullet landed in its pages.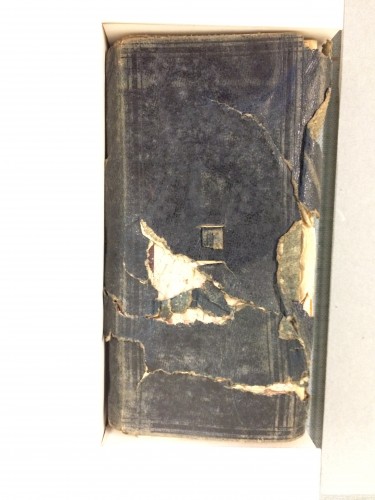 Diary cover, Henry Allen Buck Papers (Photo courtesy of Annika Pattenaude)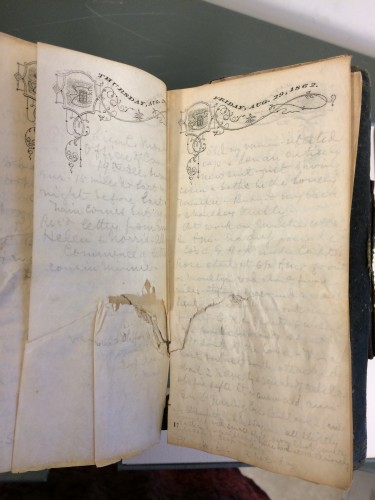 Diary interior, Henry Allen Buck Papers (Photo courtesy of Annika Pattenaude)
LITERATURE & FILM:
Betty Blythe Papers: When I first opened the Betty Blythe box, the chaotic clusters of letters, greeting cards, telegrams, magazine clippings, and photographs were almost overwhelming. After sorting through a quarter of the pile, however, I began to trace her narrative. Betty Blythe was a silent-film actress in the early twentieth century. She married actor Paul Scardon, and much of UM's collection consists of correspondence between the two lovers. These personal letters characterize their devoted relationship, their fluctuating careers, and their myriad travels. Perhaps the most enjoyable part of the collection is viewing the black-and-white photographs and magazine clippings of Blythe's dramatic, exotic, and revealing costumes. In a sense, it feels like studying the personal effects of the characters from Singing in the Rain.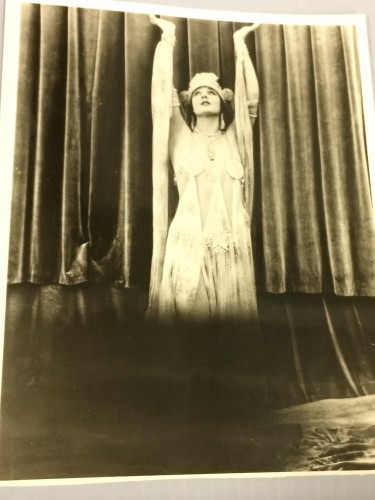 Betty Blythe in costume, Betty Blythe Papers (Photo courtesy of Annika Pattenaude)
Issac Demmon Shakespeare Papers: For students and scholars interested in Shakespeare reception or book history, I highly recommend spending a few hours with the Demmon papers. Issac Demmon was a professor at the University of Michigan and Shakespeare connoisseur; he helped negotiated the acquisition of rare Shakespeare materials (e.g. of the Thomson and Crosby collections) for the UM Special Collections Library. As I worked my way through the Demmon collection boxes, I encountered wonderfully colored programs and playbills from nineteenth-century performances, especially performances by actor Ben Greet. I also came across letters to various UM faculty and library staff, including UM President Angell, coordinating the purchase of rare Shakespeare materials.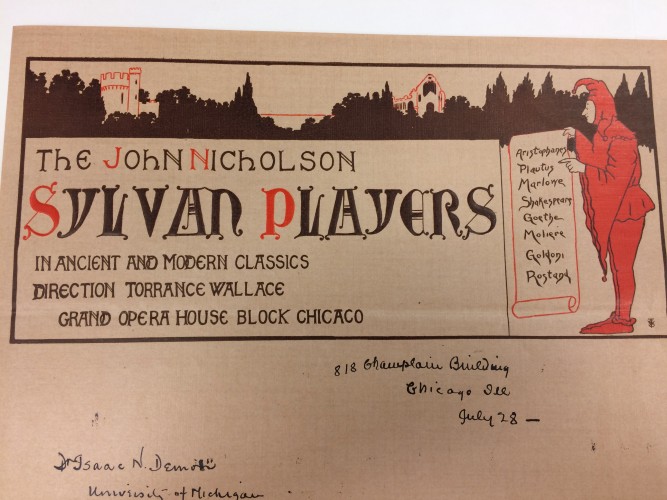 Letterhead for the John Nicholson Sylvan Players, Issac Demmon Shakespeare Papers (Photo courtesy of Annika Pattenaude)
ART:
Hank Hinton Caricatures: Hank Hinton's pictures are a laugh. This late-twentieth-century American artist captures a certain essence of American culture in his illustrations. The caricatures UM possesses are mostly illustrations for adult and children's books. Embedded in Hinton's art you can sometimes read overt political messages; other times you're confronted with just plain silliness.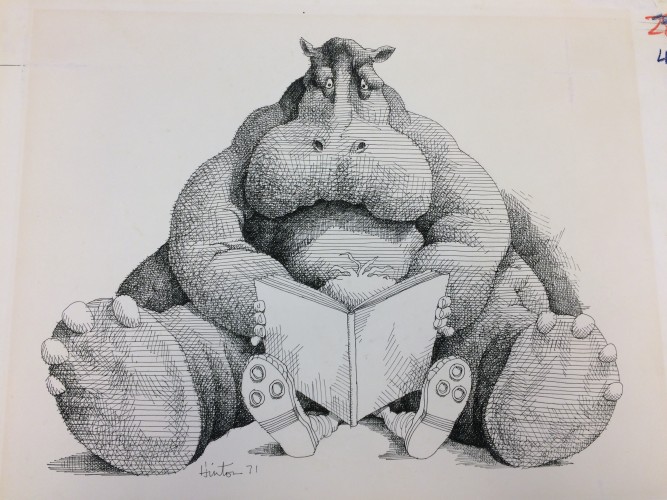 Hank Hinton Caricatures (Photo courtesy of Annika Pattenaude)
Sam Karres Sketches: A Greek-American "Urban Expressionist" from Detroit, Karres is known for his oils and watercolors. Journeying through all ten boxes of the Karres sketches in the UM Special Collections was an adventure. Flipping through dozens of sketchbooks, I encountered studies of kissing, old age, small dogs, men eating, dancing, and so much more. I imagine that these ink and pencil drawings are drafts for his larger works. Viewing this collection inspired me in two ways: I saw into the mind of an artist who was determined to capture the Detroit (and sometimes Greek-American) culture that surrounded him; and Karres's hundreds of sketches reminded me that, in general, producing "good," meaningful work takes lots of time and many drafts.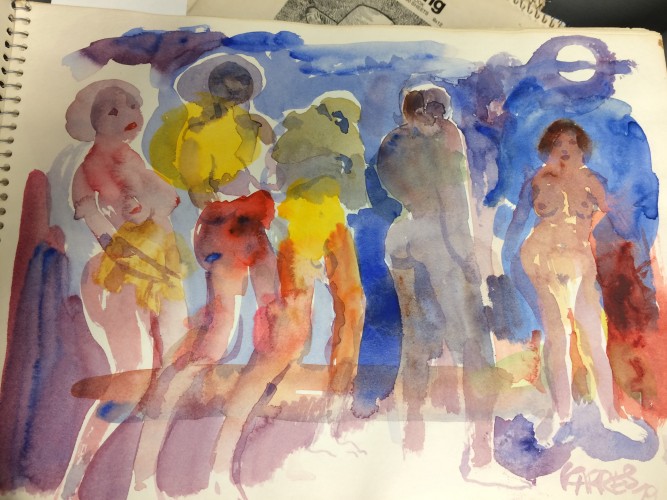 Watercolor by Sam Karres, Sam Karres Sketches (Photo courtesy of Annika Pattenaude)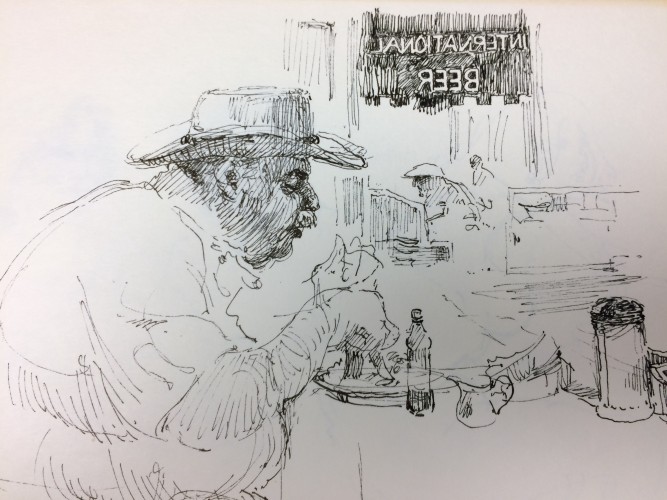 Sketch by Sam Karres, Sam Karres Sketches (Photo courtesy of Annika Pattenaude)
John Depol Papers: This was my first time seeing the work of John Depol, (1913-2004), a well-known, self-taught twentieth-century wood engraver. In the UM collection, his engravings illustrate landscapes, urban scenes, portraits, ghost stories, biblical stories, Christmas cards, and literary classics, among other things. The collection exhibits John Depol's creation of and experimentation with different designs and techniques. One folder shows exactly how Depol transformed sketches of real-life urban street corners into iconic prints. In addition, the collection houses photographs, correspondence, pamphlets, and clippings, giving a fuller picture of the social and professional circles Depol occupied. For more information, see the library's online exhibit . (But see the physical collection if you really want to be amazed!)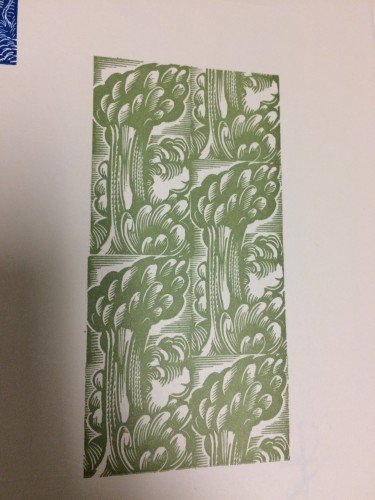 Woodcut from the John Depol Papers (Photo courtesy of Annika Pattenaude)
TRANSPORTATION HISTORY:
David O. Jones: This collection focuses on the commercial development of the airplane industry; materials include airline brochures, pamphlets and serials about travel, a manuscript of a book, airline timetables, a plastic decahedron calendar, awards, plaques, a decorated mug, and small model planes. Viewing this unique collection reminded me how vigorously the airline industry permeates American culture. Looking at the different brochures with outmoded graphics, I couldn't help but think of movies like Catch Me If You Can and the James Bond series. In my opinion, the best part of the collection lies in its dozens of beautiful drawings of mid- to -late late-twentieth-century airplane models. The second best part is the strange and delightfully "retro" airline paraphernalia, including an assortment of 32 decks of complimentary playing cards from various airlines.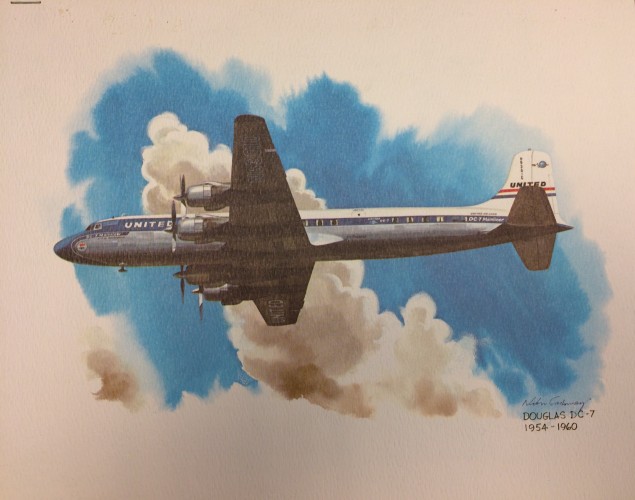 Douglas DC-7, David O. Jones Papers (Photo courtesy of Annika Pattenaude)
Even though these collections are not yet processed or discoverable online, many of them are still available for use in the Special Collections Reading Room. Interested researchers can request items through their Special Collection request accounts by following the process outlined on the Special Collections Library website!
Tags: