Do you have questions about how our conservators care for our collection materials? This Friday, 4th November is #AskAConservator Day! Conservators Marieka Kaye and Amy Crist will be on Twitter responding to your questions. 
The American Institute for Conservation (AIC) holds Ask a Conservator Day in November to commemorate the devastating flooding of Florence on 4 November 1966. Remarkable efforts to conserve the priceless cultural heritage impacted by the flood inspired tremendous growth in the field of conservation. Ask a Conservator Day celebrates that growth with conservators around the world inviting and responding to questions about their work. 
Our Conservation Lab is staffed by conservation and book repair specialists who work to preserve and conserve physical materials from our circulating and special collections — including books, works on paper, papyrus, parchment, and photographic materials. 
Beyond needed treatments and housing, our conservators respond to emergencies affecting library materials, stabilize collections for digitization, and prepare materials for exhibits and loans. 
Our conservators also develop important guidelines and techniques for conservation and offer training — holding workshops and hosting fellows and interns every year.
You can explore some of the recent work of our conservators in these blog posts.
Do you have questions for our conservators? Head over to Twitter and tag us @U_MSpcoll or @UMichLibrary and use the #AskAConservator hashtag. We look forward to hearing from you!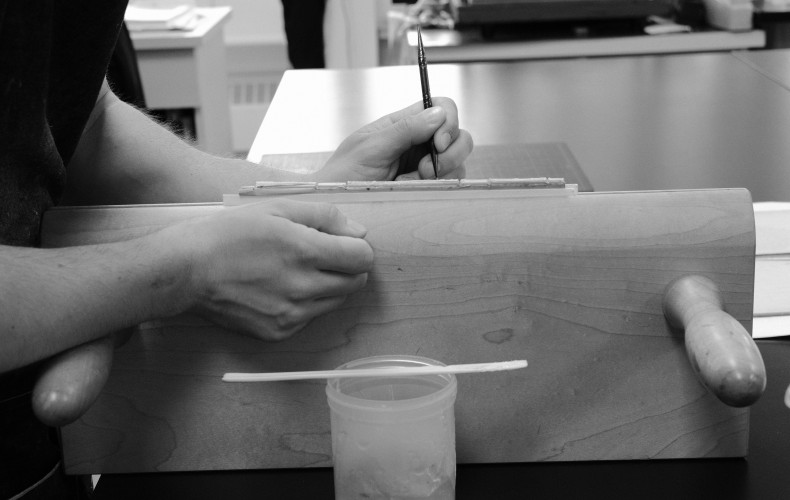 Kyle Clark, Conservation Technician and Book Arts Studio Instructor & Liaison, works on the spine of a book (photo by Charles Saadiq).
Tags: