Have you been traveling? Visiting exhibits at museums and libraries? If you looked at the fine print you just may have spotted the phrase "Courtesy University of Michigan Library Special Collections Research Center" on a label.
Each year the Special Collections Research Center (SCRC) sends books, documents, and other objects out on loan to museums and libraries for their exhibits. Curators in SCRC work with exhibit curators to select relevant materials and provide images if needed. The library's conservators negotiate a loan agreement, document the condition of each item, assess requirements for mounting and display, pack, and organize shipping. It can take six months or longer to put together all the details for an exhibit loan.
Featured below are some of the items that are currently out on loan and their exhibitions --- just in case you happen to be in town.
Making an Impression: The Art and Craft of Ancient Engraved Gemstones, August 27 - November 27, 2022, at the Michael C. Carlos Museum, Emory University, Atlanta, Georgia. 
Curators at the Carlos Museum enhanced the display of ancient engraved gemstones from their own collections with three "magical" gems and three papyrus fragments from the University of Michigan Library. The exhibit uses these exquisite, tiny, gems to explore artisanship, trade, empire, work, wealth, gender, status, and concepts of the divine, magic, and medicine in ancient Mediterranean society.
The SCRC loan was selected from the Campbell Bonner Collection of magical amulets, part of the History of Medicine Collection, and from the Papyrology Collection.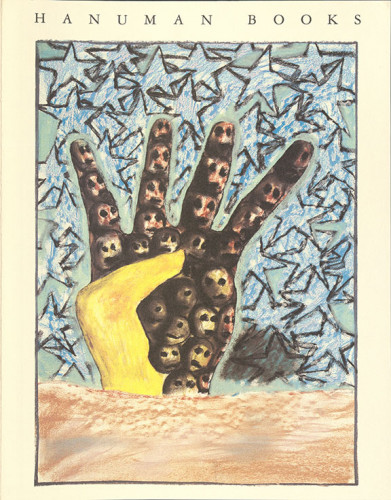 Sales catalog for Hanuman Books, ca.1988. Cover drawing by Francesco Clemente. (Hanuman Books Records)
Hanuman Books, 1986-1993, October 28, 2022 - March 12, 2023, MACRO Museum of Contemporary Art of Rome, Rome, Italy.
Hanuman Books was a small press founded in New York by artist Francesco Clemente and editor Raymond Foye. Between 1986 and 1993 Hanuman Books published fifty small (3 x 4 inches), quirky books written by avant-garde writers. These were printed and bound in vivid colors in Madras, India, taking design inspiration from handmade Indian prayer books. Authors included Allen Ginsburg, Bob Dylan, Jack Kerouac, Candy Darling, Patti Smith, William Burroughs, and Robert Hunter, among many others. The MACRO museum exhibit draws extensively on digitized documents, flyers, photographs, and a printed tee shirt from the Hanuman Books Records.
SCRC holds the records from a number of small presses, including the Hanuman Books Records. The Hanuman Books Records include the administrative archives of the press and related materials that went into the creation and marketing of the books.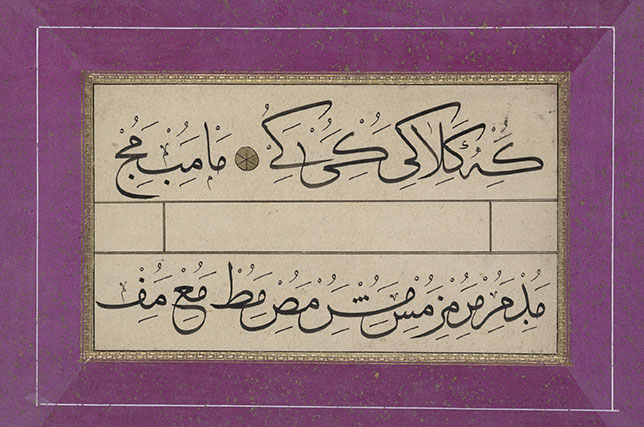 Calligraphic album (Murakkaa) of alphabetic exercises (müfredat) in Arabic, 18th or 19th century. Ink, gold and opaque watercolor on burnished and colored paper, silk. Unknown artist. Turkey. (Isl. Ms. 239)
Islamic World galleries, permanent display, Detroit Institute of Arts, Detroit, Michigan.
If a trip to Rome isn't on your docket this year, perhaps you might stop by the Detroit Institute of Arts (DIA) to see the Islamic World galleries among the permanent exhibits on the first floor. Since 2010, curators at the DIA have borrowed manuscripts from our Islamic Manuscripts Collection to include in the Islamic book arts display. The pages on show rotate quarterly and the selection of manuscripts (prepared each year by our curator) change yearly to avoid excess light exposure on the manuscripts. Featured are calligraphic showpieces and examples of exquisite bookmaking from the sixteenth to the nineteenth centuries.
The manuscripts on loan are from the Islamic Manuscripts Collection.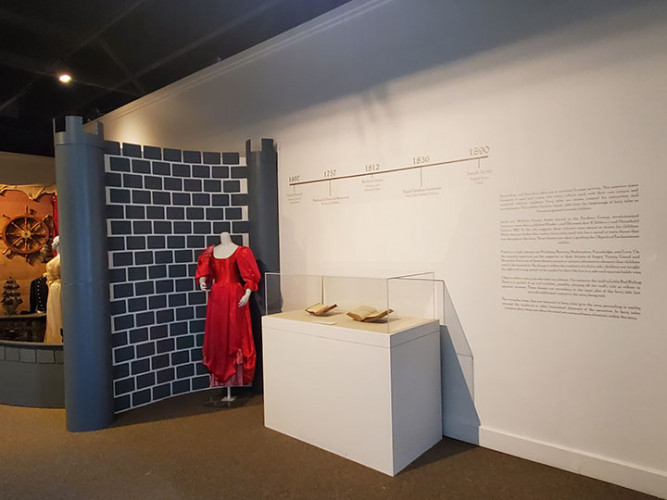 Scene from the exhibit Objects of Enchantment at the Panhandle-Plains Historical Museum. Photo by Jenni Opalinski.
Objects of Enchantment, May 7, 2022 - April 29, 2023. Panhandle-Plains Historical Museum, West Texas A&M University, Canyon, Texas. 
This family oriented exhibition features fairy tales and real-life objects often found in fairy tales. In addition to the exhibition the museum has set up a related maker space to encourage visitors to explore their own creative imagination. SCRC provided three early fairy tale classics with stories from Hans Christian Anderson and Jacob Grimm.  
The books on loan are from the Children's Literature Collection. 
Tags: