Author: Kyle Clark, MFA — Conservation Technician, University of Michigan Library
In March of 2020, COVID 19 brought the world to a halt leading to drastic changes in our everyday lives. While health concerns were at the forefront of the entire world, library staff sought ways in which to continue serving our constituents and engage with our local community.
One bright spot in this transitional period was the shift to online book arts programming facilitated by University of Michigan Library's Jamie Vander Broek. In the summer of 2020, the Book Arts Studio began developing a model for continuing its operations through a series of online lectures and workshops. The book arts programming that manifested from these efforts consisted of collaborative programming designed by book artists, librarians, designers, and craft practitioners both within our Ann Arbor community and nationally. Guest lecturers and instructors were brought in virtually to teach hands-on workshops (conducted over Zoom) and lectures related to artists' book theory, production, book design, and book/art history.
Something that cannot be overstated is the value that these workshops and lectures provided to members of our communities. While continuing instruction in the book arts was a critical concern in planning these events, an equally if not more important facet was to provide a positive and uplifting experience for what was an otherwise dark time for many in the community. Being able to engage in creative work and discussion centered on book arts with allied professionals from around the country was invaluable. Additionally, the effects of the Book Arts Studio's programming can be seen in book works being produced by members of the University of Michigan students and community members. This spring, Stamps student Maddie Fox created a stunning artists' book, The Time We Spent, that incorporated mechanical features taught during the past year's online programming. Maddie's book was awarded the BFA Project Award, 2021.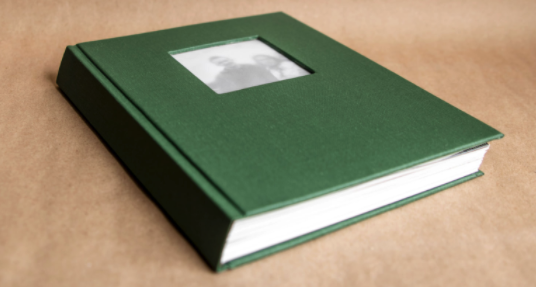 The Time We Spent. An artists' book by Maddie Fox. Drumleaf Book. 9" x 7", 2021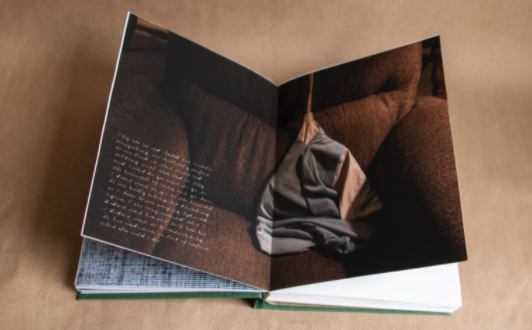 The Time We Spent. Interior. An artists' book by Maddie Fox. Drumleaf Book. 9" x 7", 2021
Programming
Providing virtual workshops in the book arts was a new experience for most of the volunteer instructors and the Book Arts Studio. Through planning and experimentation, Book Arts Studio staff and instructors came up with innovative solutions in order to best engage with participants while ensuring that each could see and learn the processes and concepts being taught in each workshop session. Simple solutions proved to be the most effective means of facilitating virtual access. Small flexible tripods, personal cameras, and even cellphone cameras connected through Zoom made everything come together, culminating in a fun, relaxing, and educational workshop experience. Additionally, active discussion between workshop participants and instructors helped to alleviate any tech hiccups while allowing instructors to assess, provide timely feedback, and troubleshoot participant work. This ensured that each participant was able to understand the concepts and techniques being taught. The lecture events during this time provided glimpses into various book arts related topics while also highlighting the work of each lecturer (who all happen to be brilliant in their respective pursuits).
Workshops
The fall online Book Arts Studio offering consisted of two workshops and two lectures. Participants of the workshops were able to learn about and make pop-up book structures and accordion and drum leaf books. Both instructors, Amy Crist and Kyle Clark (myself) work in the University of Michigan Library's conservation laboratory where Amy and Kyle hold the roles of conservator and conservation technician, respectively. Students of these workshops learned the fundamentals of paper mechanics, folding, and strategic adhesive use through the execution of pop-up book structures and book structures utilizing minimal adhesive. The book structures taught in the accordion and drumleaf workshop were well suited for adaptation by two dimensional artists while also allowing for the potential accommodation of pop-up book structures.
In the spring of 2021, two workshops were offered: Jamie Vander Broek taught a pop up Valentines card workshop and Kyle Clark taught a workshop focussed on accessible book design and production. The focus on accessibility in both of these workshops provided participants with ideas and techniques that would allow for working at home with minimal supplies. Beyond teaching book arts techniques, it was the intention of both workshops to provide a fun and creative outlet for the University of Michigan, Ann Arbor, and the national book arts communities. Participants of both workshops were encouraged to play and experiment with techniques while bringing individual artistic and aesthetic decision making to the table.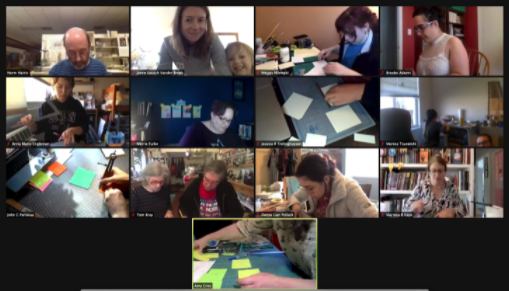 A screen capture from Amy Crist's workshop, Introduction to Pop-ups - Exploring the V-Fold.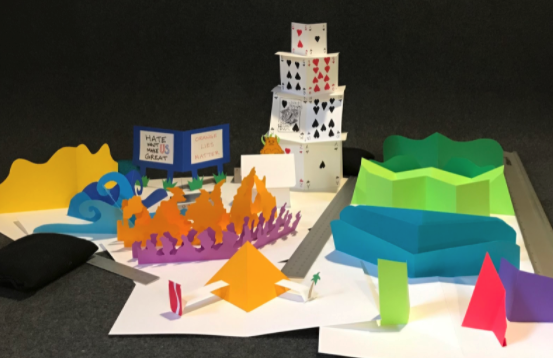 Pop-ups made by Amy Crist in preparation for her workshop: Introduction to Pop-ups - Exploring the V-Fold.
Lectures
The Book Arts Studio's 2020-2021 lecture series brought in presenters from around the country and included notable book artists, educators, designers, librarians, and historians. Topics for the lecture series covered a wide swath of information related to multiple facets of the book arts and other artistic expressions. These lectures covered elements of book arts theory, conceptual and formal development, design and creative process, and the historical roots of communication and print centric media. 
All of these lectures were a delight to attend. The interactive nature of these events (as facilitated through Zoom's Q&A feature) provided opportunities for learning and growth that would have been hard to replicate in a pre-pandemic world. To highlight one of the lectures, Alisa Banks' presentation: Modeling the Message: A Fusion of the Verbal and the Visual describes an artistic practice that embodies a unification of form and concept exploring contemporary cultural themes. Banks' lecture provided valuable insight into a book artist's work, pairing conceptual exploration and formal manifestation in the production of artists' books. Banks describes her lecture as, "... a discussion of the relationship between form and message in sculptural books.  Both are manipulated by the artist in order to support an idea, and during the talk I present several of my artist books as case studies, incorporating readings, process, and analysis. Suggestions are offered to the audience for enhancing this relationship in their future work.".
A full list of these lectures and their descriptions are listed below.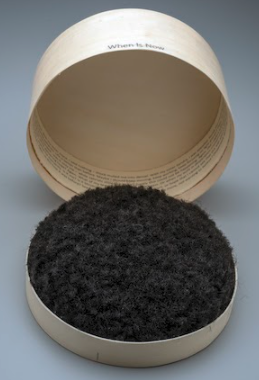 When is now? An artists' book by Alisa Banks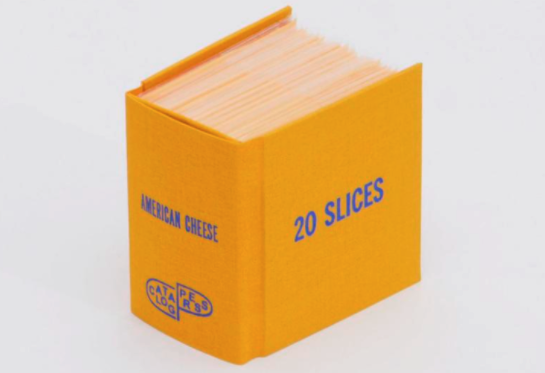 20 Slices, of American Cheese. An artists' book by Ben Denzer, 2018
Post Pandemic Hopes
Ann Arbor has been a book centric community for many decades. Moving out of the pandemic, continued engagement with our local, regional, and national communities has become increasingly possible. In the past, book arts events (workshops) have been limited to in-person instruction and the reach of educational initiatives were not as extensive. Continuing our work as book artist-educators, facilitators, as well as arts and craft practitioners in a manner informed by the innovation and resilience shown by the staff and volunteers of the Book Arts Studio will continue to bring people together. This bright future should be considered a celebration not just of book arts, but also community, the arts, craft, research, science, technology, and perpetual collaboration.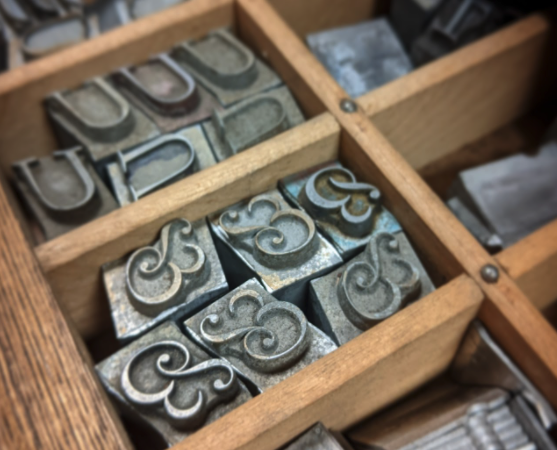 Caption: Ampersands. Lead type located in the Library's Book Arts Studio.
Workshops and lectures, 2020-2021
Introduction to Pop-ups - Exploring the V-Fold (3 session workshop)    
Instructor: Amy Crist    
An introductory pop-up class based on the v-fold, a fundamental pop-up structure. Participants of this workshop built a variety of individual pop-ups that were based on v-folds. Participants of the workshop viewed step by step demonstrations of each pop-up and then worked individually with the opportunity to ask questions and troubleshoot together. Instructor, Amy Crist described the workshop as a fun, lighthearted class, a great antidote to the seriousness of the world around us.
Behind the Book Cover (lecture)
Instructor: Ben Denzer    
Description: Ben Denzer's talk covers a behind the scenes look at the process of designing a book cover. In addition to being a designer, Ben Denzer is also a prominent book artist with books in many collections across the country and around the world.
Variations on adhesive bound artists book structures (2 session workshop)
Instructor: Kyle Clark
Description: This workshop was devoted to exploring a few iterations of adhesive bound book structures. The two sessions of the workshop included: 1) variations on the accordion book structure 2) drum leaf binding. Both accordion books and drumleaf bindings lend themselves to making artists books with single sided prints, drawings, photographs etc. and also provide opportunities to expand the ways in which the reader interacts with the book by including interactive components such as pockets, pass throughs, or hidden compartments. The possibilities are numerous.
History of Color Printing (lecture)
Instructor: Clifton Meador
Description: Our lives are lived mainly on screen now. Many of us spend upwards of 10 hours a day staring at fields of RGB pixels that look like hand-held versions of giant, flat cornfields. Hours and hours of driving through flat, monotonous, tall, green corn stalks is not that different from hours and hours of Zoom meetings. This talk presented some of the history of color printing—since media archeology is a useful way of reframing current technology—and offered some practical approaches to making color for hand printmaking processes, such as risography.
Make a Pop Up Valentine Card (Workshop)
Presenter: Jamie Vander Broek
Description: This simple workshop was designed for beginners to be completed with supplies you might already have at home — basic paper or card stock, magazines or pretty paper, a glue stick and a pair of scissors. 
Modeling the Message (Lecture)
Presenter: Alisa Banks
Description: Book artist Alisa Banks discussed the relationship between content and form in creating artists' books. For example, her work When is now? is a recent acquisition of the U-M Library. The book consists of a circular wooden box that when opened contains what appears to be the top of a person's head. As you peer into the box, only the person's hair is visible, nestled in the bottom of the container. A poem encircles the lid. Banks walked us through a selection of her works like When is now? and the decisions that went into their eventual forms.  
Tags: